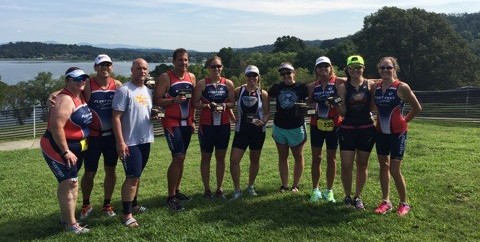 ​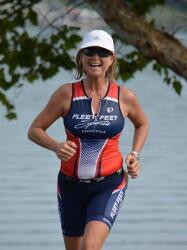 The city of Kingston saw once again the storming of the Fort Southwest Point by triathletes who came from far and near for the hope of placing their name in history and winning the well sought after awards of cannon balls or miniature cannons.
In its second year of offering a combination of sprint and half iron distances, this triathlon has become a favorite of our training programs. Many seek the challenge of the sprint distance with its 600 yard swim, 17 mile bike, and 4 mile run; others go beyond and test their limit by participating in the 1.2 mile swim, 56 mile bike, and 13.1 mile run. The newly redesigned course proved to be a favorite of both racers and spectators.
Fleet Feet Knoxville Racing was well represented in each event with strong finishes. The performances of our athletes was testimony to the quality of training and the level of attention paid to each athlete's preparedness for race day.  Everyone felt fully trained and ready for the challenges of the day and the course. However, what was most impressive was the support on the course by the friends and family of those racing and by those athletes who had already finished and stayed around to cheer for their peers. The Fleet Feet Cheer tent located near transition was well placed on the run course, and proved to be a strategic location in support of all athletes when storming the Fort.
Congratulations to everyone who raced and everyone who spectated, looking forward to a strong 2016 triathlon season.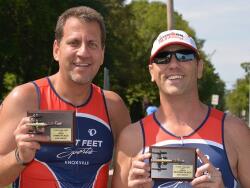 Although this event ends the triathlon training season for most of our athletes, it is not yet the end for few still training towards their target IM race either in Chattanooga on Sep 27 or in Florida on Nov 7. So we wish them well as their continue their hard work in completing that magical distance that includes 2.4 mile swim, 112 mile bike, and 26.2 mile run. Tri On….