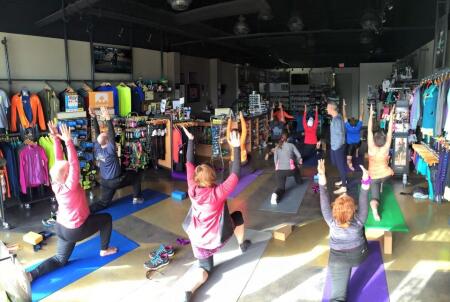 Where: Fleet Feet Sports Knoxville

When: Sundays* at 11:00 am - starting Feb 15 through Mar 22 
Sessions:  2/15, 2/22, 3/2*, 3/8, 3/15, 3/22
Cost:    $30 for all 6 sessions
             $8 per class drop-in rate
             $5 per class for Training Program members
Just in time for your spring marathon, we are offering a 6-session Sunday yoga series, Yoga for Runners! Starting on 2/15, Y4R is a yoga session designed for runners and athletes of all levels. Each session will last 60 minutes and are led by local certified Yoga instructor and avid runner, Randy Rainey.
What to bring to a Yoga class: Yoga mat and a towel! We have a limited number of yoga mats to use, so please bring your own if you have one. Wear loose clothing and bring a long sleeve shirt for warmth for rest poses after our dynamic practice. You may want to bring a towel for perspiration and to use as a prop. If you have blocks, straps or other props bring those, too but they are not required. 
*Due to conflict Sun 3/1 session is moved to Mon 3/2 at 7:15 pm.