Where: Fleet Feet Sports Knoxville
Date: Thurs 07.21.16
Time: 7:15 PM
Speakers: Anthony Hall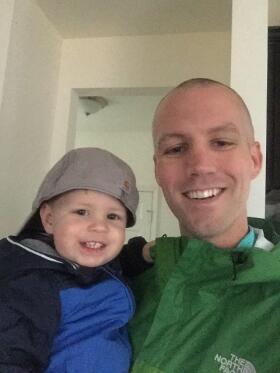 Anthony Hall has been spent 10 years with run specialty retail. He was a buyer for a sporting goods store for 5 years, then moved over to the YMCA for 5 years and has been with Garmin for 4 years, currently as a Regional Sales Manager. Anthony says that running is his passion, basketball is his best friend and his complete unhealthy love for college football stresses him out! Anthony's interests include running, camping/hiking, playing basketball and flag football, but most importantly his son Henry (pictured at left) and wife Jenny. When it comes to running, he loves running half marathons and tries to do several a year. But he says you would never even catch him even thinking about running a marathon. Never.
On July 21st, Anthony plans to go over the analytics that you can get from the Garmin Forerunner series. He will talk in detail about how things like cadence, average pace, stress scores, recovery advisor and all the other metrics can help you become a better runner while also trying to avoid over training. Athletes ranging from beginner all the way through to advanced will greatly benefit from this information. You won't want to miss it!