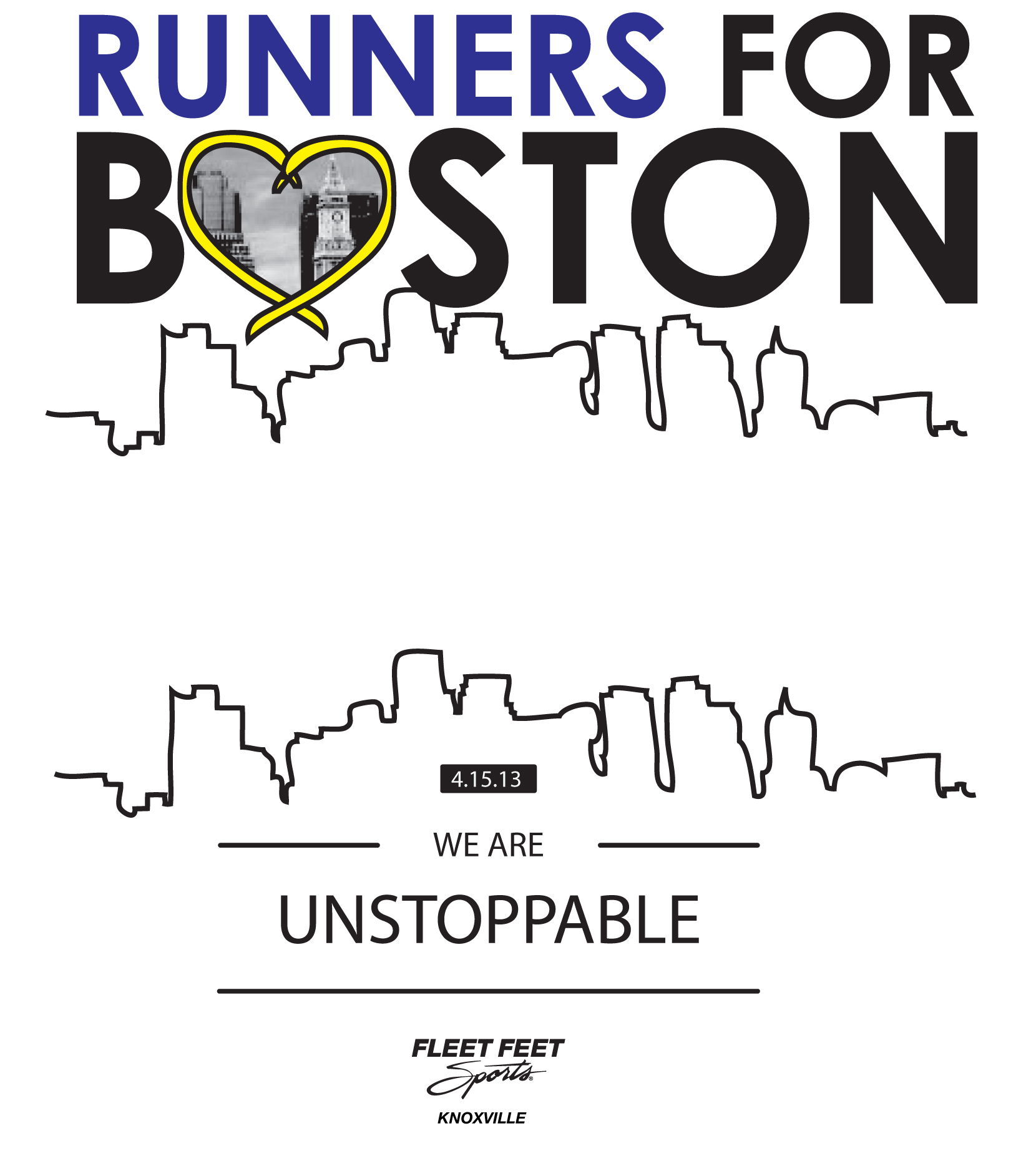 Pre-order tshirts online thru Wed, April 24th, available later for pickup in store.
On Monday April 22nd, runners and walkers in Knoxville will unite with other runners and walkers across the United States in support for the victims of the Boston Marathon tragedy. The run will begin at Fleet Feet Knoxville, located in Turkey Creek. Runners and walkers can choose between a 2.62 or 4.15 mile distance along the greenways in Turkey Creek. Registration for this event is free and will be from 5-5:45pm. The Run/Walk will start at 6pm. Register ahead of time here!
The City of Boston's Mayor and Governor have organized The One Fund for the victims of the bombing. We encourage participants to either donate online, or Fleet Feet Knoxville will collect donations during the event and submit a check to the fund on behalf of anyone that would like to donate. We will also have our iPads set up so participants can login to the website and donate to the fund directly on the website.
Fleet Feet Knoxville owner, Shahin Hadian, said of the event, "We know that people are reeling from this tragedy and don't know what they can do to help, which is why we have organized this walk and fundraiser - so that people can have an outlet and come together as a community."
Runners can also buy $20 t-shirts at Fleet Feet that say "Runners for Boston" at the event. Proceeds from the sale of the shirts will go to The One Fund, a fund organized by Boston's mayor and governor for victims.  Fleet Feet is teaming up with Graphic Creations for the screening of the shirts.  Jim Caughorn, Graphic Creations' owner and a long time Fleet Feet runner, was all about donating their production services so that more of the proceeds can go to the victims. Order tshirts here but hurry, they will go quick and ordering will only be up for a few days.
Brad Hood, Chaplain Turkey Creek Medical Center, offered these comforting and inspiring words: "Boston has been in our prayers this week.  That overwhelming sense of vulnerability needs to be displaced by the community of runners that will not stop running, friends that will not stop cheering.  Every finish line this summer will be our salvation.  Finish for those who can't, be strong for those who are afraid, live for those who have lost their life.  By running, we awaken a sacred strength determined with each step to overcome that which threatens to make us stop.  Let's go run!"
For updates regarding this event please refer to our Facebook page and our website. Read here our article, To Boston with Love.
For more than 100 years, the Boston Marathon has given many people a sense of joy, accomplishment, resolve and victory. The finish line symbolizes the culmination of weeks, months and even years of hard work and dedication. But on Monday, there was an attempt to strike down that happiness, and strip away that sense of accomplishment from runners, their families, and their friends.
Mere words can't possibly relay our sadness, heartache and anger in response to these events.  But we will not let the acts of a few take away our passion.  This is a time for the Fleet Feet Sports community to come together and be resilient.  Our brand manifesto speaks to who we are and how we will respond.  We trample down walls.  We bring a nation to their feet. We ignite hearts and inspire emotion.  And we are unstoppable.   We invite you to be UNSTOPPABLE with us.
Run/Walk contact:  unstoppable@fleetfeetknoxville.com
Media contact:  Kelly Ross kelly@fleetfeetknoxville.com
Fleet Feet Sports Knoxville 
11619 Parkside Drive, Knoxville TN, 37934
865-675-3338