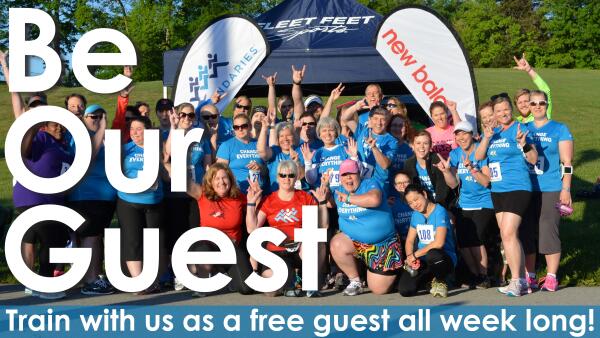 Join in on the training fun with free training group guest passes all week long! Our Long Distance and SpeedPlay programs are in full swing, and we'll also be offering a preview of our upcoming Triathlon and No Boundaries 5k training groups. As our birthday gift to you,  you'll be entered to win some cool swag simply for attending any of these events! Plus, if you bring a friend new to Fleet Feet Knoxville, you'll both get FIVE extra entries in our drawing! Winners won't be announced until Sunday 2/15, so try to come to as many events during the week as you can to increase your chances of winning the grand prize! 
You also can earn a $10 gift card for you and each friend new to
Fleet Feet Training who signs up for a training program 2/9 - 2/15.
*Please make sure to RSVP online!*
Training Schedule
Tuesday February 10th
Thursday February 12th
SpeedPlay| 6:00 am @ The Farragut High School Track

Workout: 1 - 2 miles of warmup/cool down, 2 - 3 miles of speed work
Saturday February 14th
Long Distance | 6:45 am @ Fleet Feet Knoxville

Half Marathon Workout: 8 - 10 miles
Full Marathon Workout: 10 - 14 miles
Sunday February 15th
*A "Brick" workout is a combination of biking and running in the same workout. Depending on who you ask, it's called a brick because you're building the foundation of your triathlon endurance training, or because your legs feel like bricks when it's over.