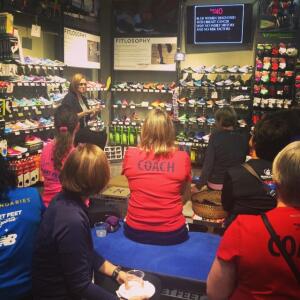 This October, Fleet Feet Knoxville made a pledge to to help combat breast cancer right here in the local community by donating 10% of our sports bra sales to the Knoxville chapter of the Susan G. Komen Foundation. We've surpassed last year's donation, and we're on our way to double it! One important aspect of breast cancer awareness is breast cancer screening. Last Thursday, Dr. Ducote of UT Medical joined us at the store to talk about this very important topic. It can be a scary conversation to have, but we believe though education we can make these difficult discussions open, comfortable, and supportive and spread the word on the importance of early detection. Regular mammograms are vital, because early detection saves lives! If you missed the presentation, it's available for download at the bottom of the page. For more information, you can contact the University Breast Care Center and schedule a screening or consultation.
After the presentation, Dr. Ducote was able to spend some time with us answering questions over a glass of wine and hors d'oeuvres, served by our bartender and Moving Comfort representative, Mike Flemming (thanks Mike)! We also talked about the difference a good sports bra makes on the run, but the best thing to do is just try one on for yourself. The talk kicked off The Great Bra Event, where women were able to schedule personalized sport bra fits with our professional fitters throughout the weekend. Scheduled appointments have ended for now, but you can still visit one of our bra fit specialists to find your perfect fit!
Stay tuned for future events, we're constantly planning new activities, group runs, and educational talks, free to anyone who wants to come!