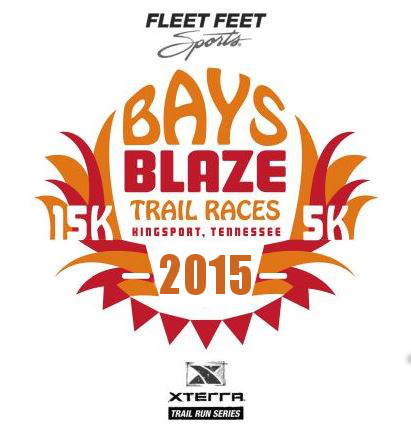 XTERRA Bays Blaze Trail Run - Tennessee Series # 3. Location: Bays Mountain Park, Kingsport, TN. 
Pre-Registration: $20 (guarantees shirt and size requested if received by August, 1, 2015. No postmarked, but received!)
Regular Registration: $27 (if received after August 1, 2015)
Are you a friend of Bays Mountain? Then join us for these trail races with proceeds going to the Bays Mountain Park Association. Check back for preregistration information! Choose from either the 10 Mile or 5k options. The 5k option is great for even the beginner. Mostly single track trails. There are not many 5k easy trail runs around, so come out and try this one and help support the mountain that makes these possible. The 10 mile option is challenging and exciting. Flats, climbs, drops, and recovery are all part of this course. Both are great XTERRA races presented by Fleet Feet Sports, so come out and show your support for Bays Mountain. 
10 Mile Course Description
*Start at picnic shelter on Lake Rd. down from Maintenance Building
*Run out and turn Right onto Firetower Trail
*Turn left onto Chinquapin Trail
 *Cross Lake Rd onto Sweet Gum
 *Veer to the right onto Lakeside Trail (go across lake bridge)
 *Turn right up Cherry Knobs Trail
 *Turn right onto Lake Rd. to Feagins Gap
 *At Feagins Gap, turn up onto the new Bear Run Trail
 *Turn Right onto Indian Pipes Trail
 *Follow Indian Pipes Trail to the Fire Tower
 *Follow Lake Road toward radio towers to Azalea Trail
 *Turn right onto Azalea
 *Turn Left onto Chesnutt Trail.
 *Finish at Maintenance Building
5K Course Description
*Start at picnic shelter on Lake Rd down from Maintenance Building
 *Run toward maintenance Building and turn left onto Chestnut Trail
 *From Chestnut, cross Azalea and get on Big Oak Trail
 *Stay on Big Oak
 *Turn left onto Lake Rd
 *Finish at Maintenance Building