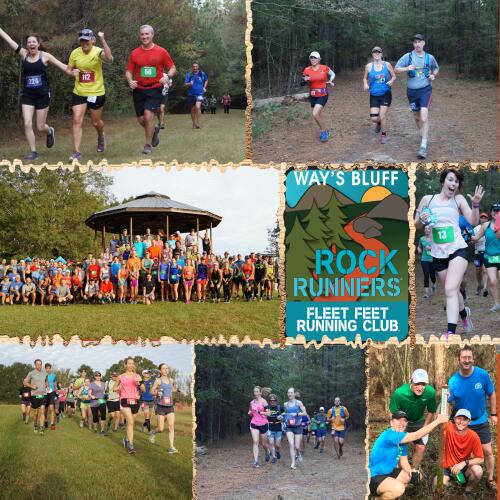 Still room to join! Follow the sign up link or contact michael@fleetfeetjackson.com for more information.
Never done trails? Want to mix up your running with something new? Come join our group!  We will be training for the M.U.T.S. (Mississippi Ultra & Trail Society) Way's Bluff Trail Run at The Gray Center in Canton on October 19th! Each participant will receive a training plan and a t-shirt. You will be coached by veteran trail runner Paul Van Hooydonk. He is in his 4th year as the Fleet Feet Trail Coach and does a great job of educating, preparing, and encouraging runners! The full program will prepare you for the 8 mile, 25k or 50k distances. The full program is not a beginner running program. Not sure if this program is for you? Come to one of the info meeting and we will help you decide!
If you are interested in coming but not sure if the program is right for you, just come to one of our workouts! Email: jackson@skyhawks.com to find our where they are meeting!
Info Meeting: Tuesday July 14 @ 7pm at Fleet Feet in Ridgeland
               
First Run: July 22nd, 6pm
Sponsored by our friends at:

Way's Bluff Rock Runners 8mi, 25K, and 50K More Info »
Program Start: July 22nd, 6PM
Program Schedule: Wednesday Evening Runs, Saturday Morning Long Runs
Program Fee: $125
Description: STILL ROOM TO JOIN! Get muddy with our Trail Training Group! Starting July 22nd, the group runs will be Wednesday at 6pm & Saturday at 7am each week. Each participant will receive a training plan and t-shirt. We will be training for the M.U.T.S. (Mississippi Ultra & Trail Society) Way's Bluff Trail Run at The Gray Center in Canton on October 10th. You will be coached by veteran trail runner Paul Van Hooydonk. He is in his 4th year as the Fleet Feet Trail Coach and does a great job of educating, preparing, and encouraging runners! The full program will prepare you for the 8 mile, 25k or 50k distances. Info Meeting: July 14th, 7pm at Ridgeland |