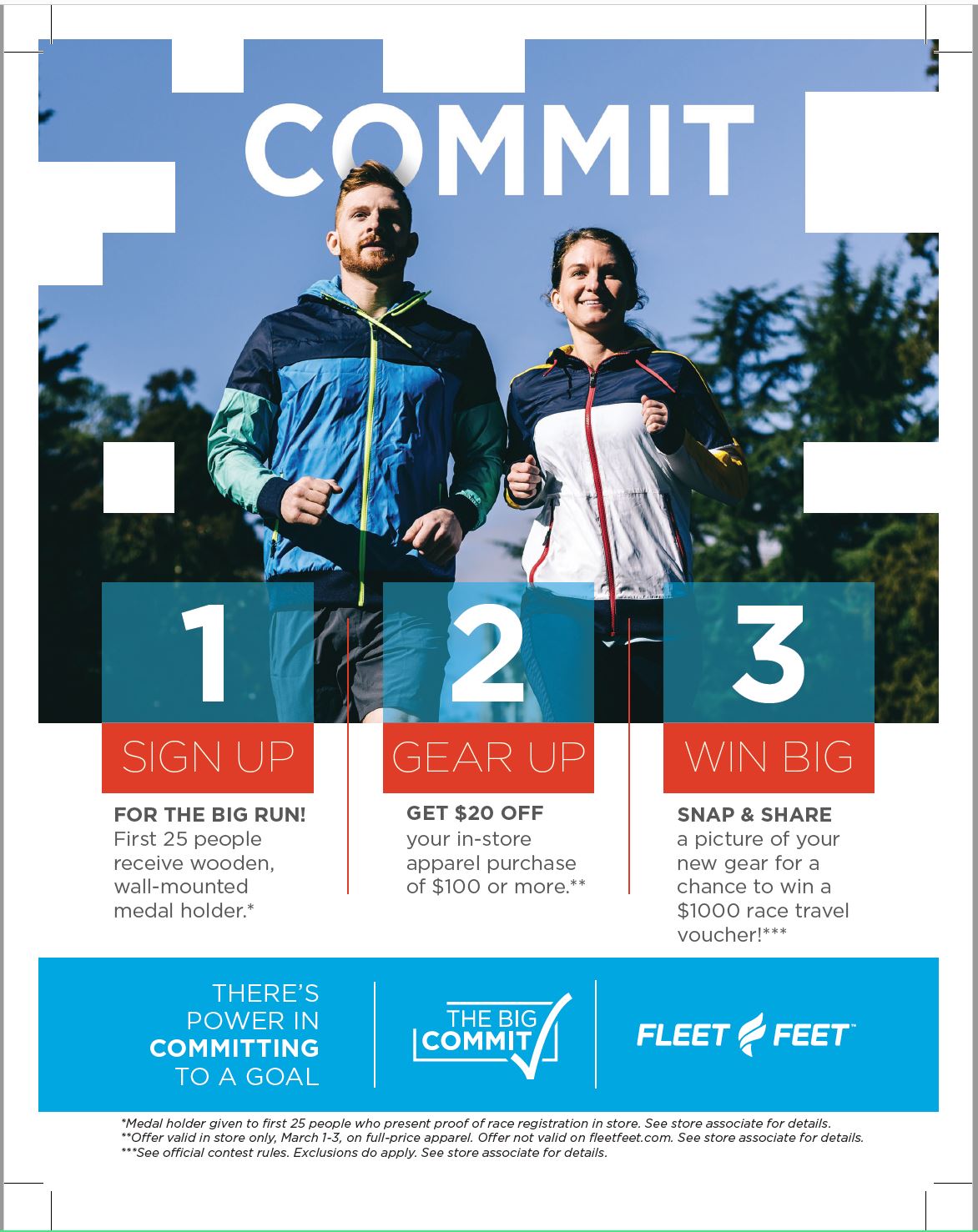 There's power in committing to a goal,
in setting your sights on achieving something that requires effort, demands attention, and creates vulnerability.
For many, that risk of failure outweighs the reward of achievement. But not for you. You're lit within, fueled by a spark ignited from potential.
And that's why we're here. Whether you commit to a minute, a mile, or a marathon, your journey starts now. Every step, stride, and mile. We're committed to you.
Commit with us March 1-3
Bring your potential to The Big Commit, and set the goal you want to achieve:
Set a goal. Sign up for THE BIG RUN this weekend or any of our running clubs, and gain exclusive prizes! (see above.) Registration opens March 1st.
Start on the right foot. Our beginner 5K FINISH running club will have you off the couch and on the starting line for the Big Run. This 12 week program is open to ANYONE, whether you are walking, run-walking, or trying to run it all the way in for a 5K! Join up HERE! 
Aim higher.  Our 5K FAST program is designed for those looking to take their running to the next level! The 8 week program will have you ready for a PR come race day at the Big Run. Learn more, HERE!
TRI something new.  Have you ever wanted to attempt a triathlon? Tri 101 is an 8-week training program to prepare you for the "Tri to be EllaStrong" sprint triathlon on June 30th at the Madison Healthplex. This program is designed for new athletes that may not have any previous triathlon experience. Sign up HERE!
Run stronger, together. Fleet Feet Jackson has several fun runs, pub runs, coffee runs, and so much more. Download our app (Fleet Feet) or sign up for our newsletter for the latest updates. You keep moving, and so will we.
Once you commit, we outfit: Get $20 off your in-store apparel purchase of $100 or more. Visit us for more details.