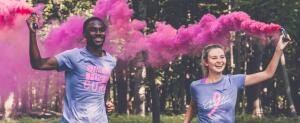 We hope you've got some pink running shorts or shoes!
Fleet Feet Jackson continues it's Project Zero campaign with our very own fun run series! We've got a chance to win a free pair shoes, not to mention that Capitol City Beverages will be providing refreshments afterwards.
So make some strides for a cure, wear pink, and come out to run with us in honor or memory of someone who has been impacted by breast cancer! Our fun runs are free, start from the store parking lot, and have multiple route options. 
Starts at 6pm @ Fleet Feet!