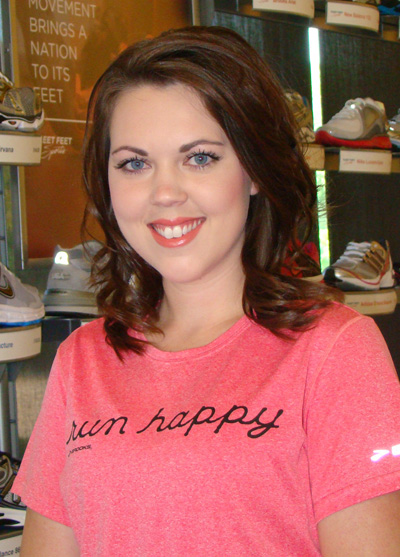 Bio: Candace grew up in Madison and attended a private, Christian School—The Veritas School, and then attended Holmes Community College two years after.  She heard about Fleet Feet through their running programs and word of mouth. She wanted to work at Fleet Feet because she knew how important good fitting items are to a runner's life. Having played several high school sports, including track, Candace always had Fleet Feet as her go-to-store for running shoes, insoles socks etc.  With an injury-free high school career, Candace knew Fleet Feet certainly had a significant part to play! 
Favorite Race: "It has to be the triathlon in Reunion called "Soak up the Sun".  It was my first triathlon and I would say the most fun race I have ever done.  Did I place? Absolutely not.  Did I laugh and enjoy the entire thing? Yes! Totally different from my normal races, and it made it really fun!"
Running Advice: "Never count yourself out because of speed.  That's the beauty of running—it doesn't matter your average pace-per-mile or how far you can go without stopping to walk.  Running is about you, no one else.  Some run for competition, some for pleasure, some to keep their weight regulated, etc. Figure out your reason for running and let that motivate you.
The Fleet Feet Difference: "Our customer service and outstanding FIT process sets us apart from other stores.  We truly care about you as a customer and do our best to give you the necessary items for a wonderful running experience no matter your pace and distance.  We ask questions to find out what you want out of running and what your goal is.  We are knowledgeable when it comes to specific injuries and can provide you with injury preventives and care.  We are relationship builders and want to get to know you as a person as well as a runner.
Motivation to Run: "I always need a goal.  That is my first step to running and exercising diligently. Goals can look like a number of different things, but it takes one to get most people motivated and consistent.  For me, it is to stay in shape. Now that I am out of high school and college and no longer have daily two-hour practices to attend, I need another motivation.  Find a race or goal that will motivate you to achieve but keep it within a few months.  Making it too far away could make it harder to stay excited…
Favorite Running Accessory: "This came to me super easily—Body glide." 
Life Outside of Fleet Feet: "I love to play golf with my husband and some co-ed softball when possible.  I absolutely love getting my nails done, putting on makeup, and anything to do with the spa.  If you can't tell from my previous statements, I am a girly girl at heart! :)