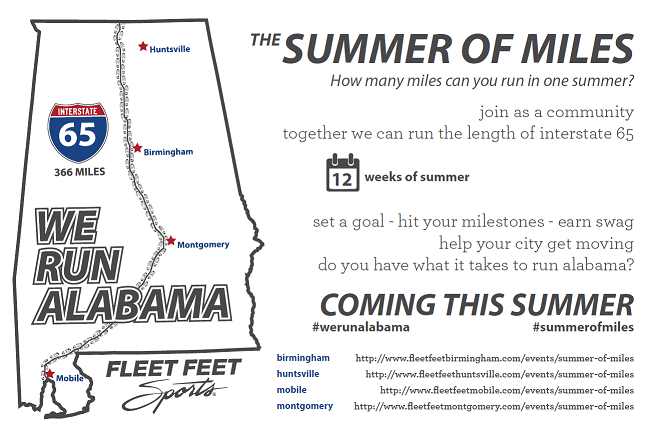 Goal for the Summer of Miles
To see how many times we can cover the length of the State of Alabama along route I65 (366 miles) as an individual and as a whole group. This event will be in conjunction with all of the Fleet Feets in Alabama (Huntsville, Birmingham, Montgomery and Mobile) during June 14th-September 22nd.
How it works:
Miles can only be earned at races in the State of Alabama, at Fleet Feet sponsored fun/group runs and runs starting at a Fleet Feet Sports. Each store will keep up with participant's miles. (this way we know who has done what). Participants will earn a "SWAG" bag that will be filled with products as they reach mileage milestones. Receive some Fleet Feet swag every 30 mile milestone you reach! With the first prize being a We Run Alabama shirt with each of the stores locations on the shirt. The Swag bags will be picked up at the end of the summer event.
How to Participate:
The Summer of Miles is FREE to participate! Just fill out the application below and submit your miles HERE!