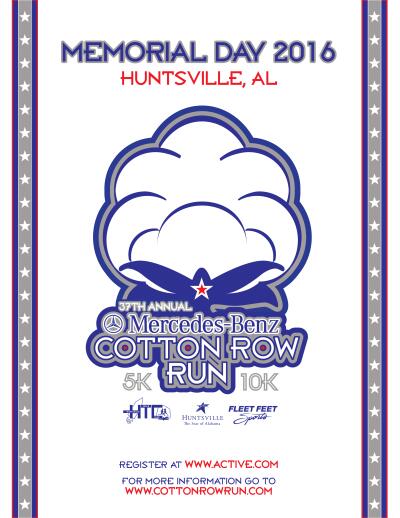 May 30, 2016 – Huntsville, Alabama
7:00 AM 10K Start Time
9:00 AM 5K Start Time
10:00 AM 1 Mile Fun Run Start Time
No registration on race day.
A 1-mile fun run is primarily for kids 10 and under, but adults may run or walk with kids.
ChronoTrack "B-tag" timing will be used for the 10K and 5K races.
We have received police approval for walkers to participate in the 5K, but if walkers have not finished the 5K in 50 minutes, they will be asked to move to the sidewalk at that point to finish.
Be patriotic - try to wear RED, WHITE, & BLUE!
10K Race
Run the Cotton Row 10K (6.2 miles), for the past 34 years Cotton Row Run has been the premiere Memorial Day running event in the South. The Cotton Row Run is conducted by the Huntsville Track Club and is the final awards event on the Running Journal Grand Prix XXXV Championship Circuit.
5K Race
If you prefer the 5K distance, we have a beautiful course through the historic downtown area of Huntsville, Alabama. The 5K race was added a few years ago to encourage more people to run a shorter course. Those wishing to walk this event should start to the rear of the runners.
1 Mile Run
We have retained a fun run but shortened it to 1-mile and placed emphasis on participation by the younger (10 and under) crowd. Parents who have run either of the other races are welcome to accompany their children. Races start on Clinton Street north of the Von Braun Center.
Bib Number Jackpot
 Be sure to keep your bib number after the race to see what amount it is worth! Everyone is a winner! (Valid through June 25, 2016)
Course Map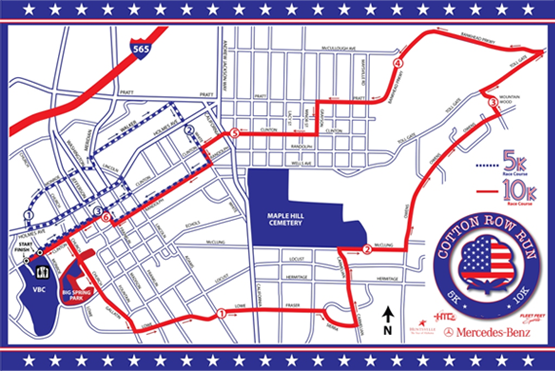 Sponsors