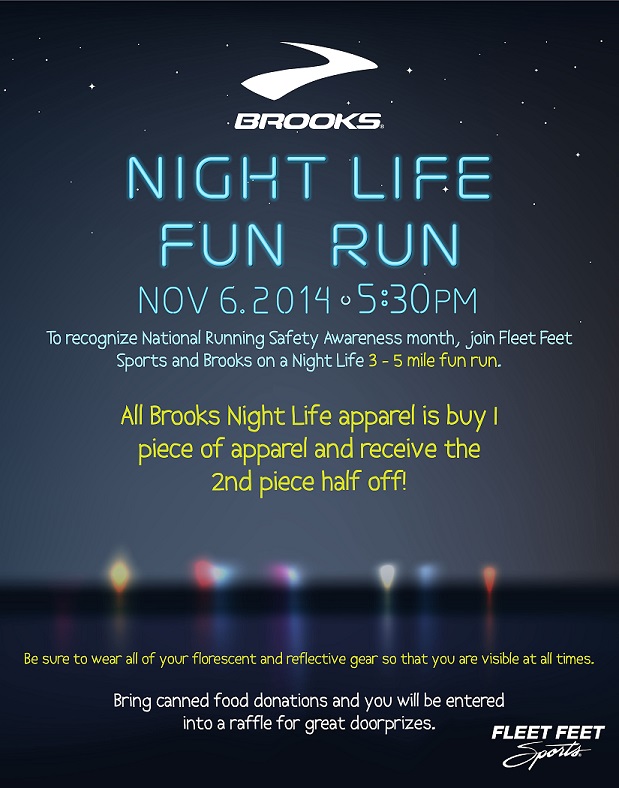 Brooks Night Life Run
To recognize National Running Safety Awareness month, join Fleet Feet Sports and Brooks on a Night Life 3- 5 mile fun run.

Be sure to wear all of your florescent and reflective gear so that you are visible at all times. Safety vests will be available to borrow at the run

Give a ways to raffle off directly following the fun run! To be entered into the raffle, all you need to do is bring canned food to be donated for the upcoming holidays!

If you do not have any reflective apparel or would like to add to your collection, all Brooks Night Life apparel is buy 1 piece of apparel and receive the 2nd piece half off! 
Location: The run will start and end at Fleet Fleet Feet Sports Huntsville
Fee: Free! Encourage all of your friends and family members to join you!
Registraton: No registration is required. You just have to sign in before the run starts at 5:30 PM
Distance: 3-5 Miles
Date: November 6, 2014
Visibility Running Tips
1. Be Visible
Wear bright colors and reflective gear during low-light hours. We suggest checking out our Nightlife high-visibility apparel.
2. Run Against Traffic
If you're running next to a road, this helps cars to see you as they approach.
3. Obey All Traffic Laws
Clearly signal to cars where you are going.
4. Open Your Eyes
Wait, watch and listen for cars before crossing intersections.
5. Keep Your I.D. on You
And don't forget to carry your cell phone at all times.
6. Stay on Well Lit Paths
And while you're at it, run with a friend or in a group.