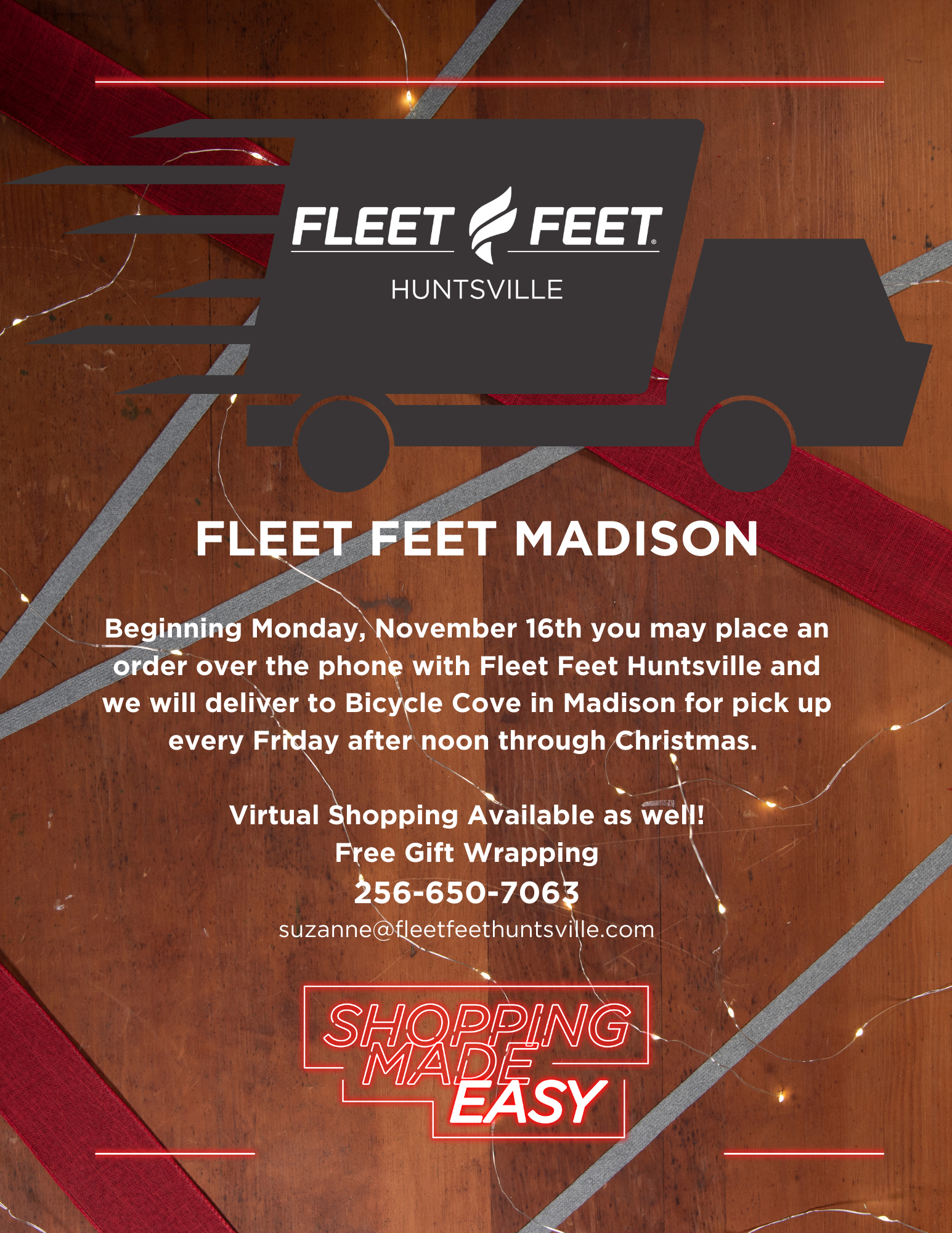 MADISON HOLIDAY DELIVERY OPTIONS
STORE NUMBER: (256) 650-7063
Fleet Feet Huntsville will be making weekly deliveries to Bicycle Cove Madison. We realize you are busy and we want to be a convient place for you to shop! Our goal is to PUT PEOPLE FIRST, be it our customers, employees, race participants, or the general public. Our business is all about PEOPLE and bringing them together to celebrate in the activities we all love – running, walking, and fitness. This crisis which was so hard to even image a few months ago is testing us on all levels. But what comforts us is the knowledge of the strength and resilience of our community. We runners and walkers are a tough breed. We will get through this and we will overcome. We will all support each other just like we always have.
Finally, stay active! Nothing is better for stress relief and self-care.
NEW ALTERNATIVE SHOPPING OPTION FROM FLEET FEET!
1. Order with this form. We will confirm your order and set up payment.
2. Call the store, 256-650-7063. We will do our best to answer calls quickly or return calls quickly. Sometimes we get busy assisting in store customers. We will check messages regular and return calls as soon as possible.
3. Email Suzanne@fleetfeethuntsville.com for direct assistance.
1. Submit your order details below.
2. We will contact you for any clarification and retrieve credit card information.
3. We will deliver your items to Bicycle Cove in Madison no later than Noon on Friday.
STORE NUMBER: (256) 650-7063