Back in the spring of 1986, I had decided that there was more to running than racing up to the marathon distance. I was familiar with the 50 mile race distance but only knew a couple of runners who had actually completed one. I saw an ad for "UltraRunning" magazine and I sent in for a subscription.
I got pretty excited when that first issue came in the mail; it was the May 1986 issue. I just couldn't wait to read about this ultra-running madness. Who in their right might wanted to run longer than a marathon anyway? I read the magazine cover to cover and in the back was an Ultra-Running calendar. I couldn't believe there were several ultra-marathons. Although California dominated the ultra-running scene with more races than anywhere else in the country, the Southeast had a few races too.
One of the races listed was The Strolling Jim 40 mile run in Wartrace, TN. I pulled out my road atlas and thought; this is not a very far drive from here. There was only one problem; the race had just happened the past Saturday! My subscription was just a few days late, otherwise I would have run that race in 1986. I was a little disappointed because I thought a 41.2 mile race might be an easier way to begin my ultra-running career than something like a 50 miler or farther.
It was not until the next year in 1987 that I actually ran my first Strolling Jim. I remember the race. My good friend Mark Dummer and I drove up the night before and stayed in Shelbyville, TN. We got there kind of late because Mark had to work until 5pm. I remember it was a loud night, with lots of kids partying all night long.
The next day we rolled into Wartrace. If you blink, you miss the town. It has a total of two stop signs and a railroad track running right through the middle of town. The trains are frequent, loud and fast. I remember the shirt was purple with a green race logo. It had a horse's head with a 40 mile in the logo, it was classic. The race is run in Bedford County, walking horse country and the race is named after an infamous walking horse buried near the finish line.
A hundred or so runners toed the line and the faint sound of a horn started the race. We took off, the lead pack was really moving out of town at a fast pace. I was running pretty fast myself. All I really remember that day was getting to the "Walls",a series of one steep hill after another, at the 30 mile marker and seeing Steve Warshawer lying on the bridge. At the time, Steve was the Southeast's most dominate ultra-marathoner. He had most of the course records in the South and he even finished 2nd overall in both the Leadville Trail 100 mile run (18:04) and the infamous Western States 100 (16:51)
Steve hoped off the bridge and decided to run in with me. He said it wasn't his day so he took at little break. He ran in with me the final 11.2 miles. I don't even remember what we talked about. We finished 7th and 8th overall respectively.
I was back again in 1988 and ran basically the same time slowing less than 1 minute. 1989 was the year that no one heard the horn at the start. For whatever reason, Gary Cantrell, Race founder/director, always starts the race with an air horn. Here is the "whatever" reason; he stands about 100 yards down the street. Strolling Jim is an old ultra-marathoners reunion, so we stand around chit chatting before the start and get to see our old friends. About 3-5 seconds later, everyone realized we were supposed to be running. By my watch that year, I had 4:59:59, but the official results said 5:00:02. I kept an eye on my watch and I knew it was going to come down to my final kick on the last 2 miles. I sure would like to have had one more sub 5:00:00 to add to my total. The controversial part of 1989 was this. Charlie Trayer needed :03 to break Tom Zimmerman's course record, and guess what? Gary gave him the :03 for a new course record, but I did not get my :03, go figure?
It was the next year in 1990 that I had a race to remember. Strolling Jim is the first Saturday in May. It is that time of year when cool turns to hot. It is usually some of the first days we see the 80 degree marker. 1990 was different. It was cloudy and cool at the start; it looked as though it may rain. The race field was loaded with fast runners. We took off at a fast pace, I hit the first 5 miles in 32:50, I remember thinking, that's a pretty fast start but it did not feel too bad. Next 5 miles was about the same only you run the first "big" hill of the four major climbs on the course. In all, the course has a net gain of just under 3000'. I was running with an old friend of mine from Oxford, AL, Ken Brewer. I was 24 years old and Ken was 45. We were working together and really cruising, we split the marathon marker than day in 2:50:30, 6:30 pace. Ken started pulling away from me in the Walls. I thought I was falling apart.
Fact of the matter was, we had already completed three of the four major hills and number four was staring me in the face. Ken was pulling away from me because he was probably one of the strongest 45 year old runners in the country. I just kept working through the walls keeping a couple of other runners in my site. Clouds remained and on a very rare day in May.  The temperature was actually falling into the 50s. It was windy and grey. Keep in mind, we split the marathon in 2:50 and still had 15 miles to go. I hit the 35 mile marker with 10k to go and I realized I was going to crush the sub 5 hour marker. Ken had pulled away and I was just going to run in alone best I could. I still remember, I ran that final 10k in just under 42 minutes, not bad after 35 tough miles. I crossed the line in 4:36:33, a time that would win more than half of all the 38 Strolling Jim 40's. That day I was only good enough for 7th. My buddy Ken Brewer went on and held that 6:30 pace all the way, a master's record in 4:31:24, a record that most likely will not be broken. He was 3rd overall. Sean Crom from Nevada won that day in 4:12:17, a new course record and still the second fastest time ever run at the Jim. There were 10 Gold shirts that year; probably the most ever sub 5 hour performances in one race. At this point in time, the Jim was one of the country's most competitive ultra-marathons. It was a year to remember.
I told Gary Cantrell that day, after running the 4:36:33, I may never run that fast again but that I promised him, I would continue to run the Strolling Jim 40 mile run each year. Each May came and each year I continued to run the Jim. I couldn't resist the race. It was only a 90 minute drive from Huntsville. I always enjoyed the challenging course and the scenery. The beautiful country, the rolling hills, farms, wild life and hand painted arrows marking the course on the roads.  I enjoy the little messages painted on the roads that read; "Bad Dogs next 40 miles", "This is not a hill", "Only wimps walk here", just to name a few. I also told myself at a young age, if I can meet the challenge of finishing this race every year for the rest of my life, that it would keep me young and in shape.
Another year that stands out in my mind was 1998. South African Charl Mattheus, the 1991 South African 100k champion was coming to the Jim to take a shot at Andy Jones (Canada) course record, 3:59:26, a time that has not been challenged ever, that's 5:45 pace. Like I said earlier, SJ40 was one of the most competitive ultras in the US and received attention from all over the world. Charl had also won the Comrades marathon in South Africa, the most famous ultra-marathon in the world. Well, we lined up that day and there was no doubt in anyone's mind who was going to win the race, the question was would he be able to set the record? There was also a speedy marathoner in the race from Minnesota named Jarrow Wahman who some said might challenge Charl.
The race started and by now, I had run 11 straight SJ40's. I knew a little bit about the race, so I did not get too caught up in the early jostling. The first few guys went out fast; Charl took off like he was shot out of a gun with Jarrow chasing him. I think they went through the first 5 miles that day in a little over 26 minutes, on course record pace. I sat back and did my own thing and settled into a nice steady 7:00 per mile pace. I remember hitting the 20 mile marker, at the top of the second big climb in 2:20, exactly 7:00 per mile average. I was feeling pretty good that day and I gradually started catching some of the early speed demons.
I rolled through the marathon in just over 3 hours and caught and passed Jarrow. He looked like a grizzly bear had hopped onto his back. I had heard rumors that Charl had been on course record pace but the climbs, heat and toughness of the Jim was getting to him. The course record was probably going to stay safe.  I was now in 2nd over-all. In my mind, I was a full 10 minutes behind my course PR pace at the marathon and there was no hope of catching the South African because he was so far ahead. It was one of those few days where I was able to really cruise the Walls with little effort. Even though I had no chance of winning or a course PR, I pushed the pace the second half. While I ran 2:20 for the first 20 miles (7:00 pace) I ran the second 21.2 miles in 2:20:15 (6:40 pace). A big time negative split. Even though I did not catch the South African champion, I had closed the gap, finished 2nd overall in 4:40:15, and an average of 6:50 per mile. It would be just a few minutes slower than my course PR and the strongest second half of any of my SJ40's.
I could probably continue to tell stories of the glory days at the SJ40. There are lots of stories. I have made many friends over the years at the Jim. I have watched the Race founder's/Director Gary Cantrell, AKA Laz, kids grow up at the race. I was able to enjoy my first 25 miles this year with Gary's son, Case Cantrell. I could talk about all the many races that I had with DeWayne Satterfield and David "Hollywood" Jones; there have been too many battles to count. I could tell you about the sunny hot days, when the temps raised above 85, with no shade, a puke fest for me. I ask myself on those days, why am I doing this? I met Kathy Youngren at the Jim, 20 years ago; we have been friends ever since then. All three of my kids were born since I started running this race, love ones have passed away during my years of running this race. I can still see the late Phillip Parker, standing there in a Strolling Jim 40 t-shirt, it's about all ever had on and in fact, I wore a SJ40 t-shirt to Phillips funeral because I knew it would make him smile. Oh the memories made.
There is just something about the Strolling Jim 40 that keeps me coming back. Maybe it's the family reunion atmosphere at the post race BBQ? I think about the race and the fact that I have now run it 30 straight years. I think, it's just race and so what if I have completed 30 straight? But then I think, it's not just a race; it's 41.2 mile of nothing but hills. It's 15 mile longer than a marathon. It's a challenge. I have been very fortunate. I have managed to get to the start line 30 straight years despite all the things in life that interrupts our fun. I have not been stopped by injury or sickness. So what's next? I plan to continue. We must have goals, long term and short term. My goal is to continue to run the Jim. I don't think 50 Strolling Jim 40's is an unreasonable goal. Short term, I want to see if I can continue to run it in under 6 hours, something I have managed to do 29 times already.
I laugh a lot about the SJ40 now and just how important the race has become to me. James Emig of GA has now finished 32 SJ40's, he is 69 years old and Dan Thompson of KY has finished 31. They both have missed some years so their races are not consecutive, but there are still ahead of me in number of finishes. I always joke with Dan, that his are not consecutive, he pays me no attention. Dan says, he has told his wife that if she dies the weekend of SJ40, her funeral is going to have to wait until he finishes the Jim! Of course, now everyone is saying that about me too and well, maybe this just might true too.
Next year, the first Saturday in May, you can expect to find me in Wartrace, TN. It will be just another year but not just another run, in Blake Thompson's words "It's the Jimmy!" I hope you will join me, make some memories and run some miles where "every runner is a hero, an honored guest, and a welcomed friend. Join us this May for the 39th running of the race, and you will find your own reasons to keep coming back."
Special thanks to all of those who have crewed for me over the years, inspired me, kept me going with aid or words of encouragement. And my family and friends for putting up with me and my relentless pursue to not let anything stop me from completing the race. Thank you for understanding.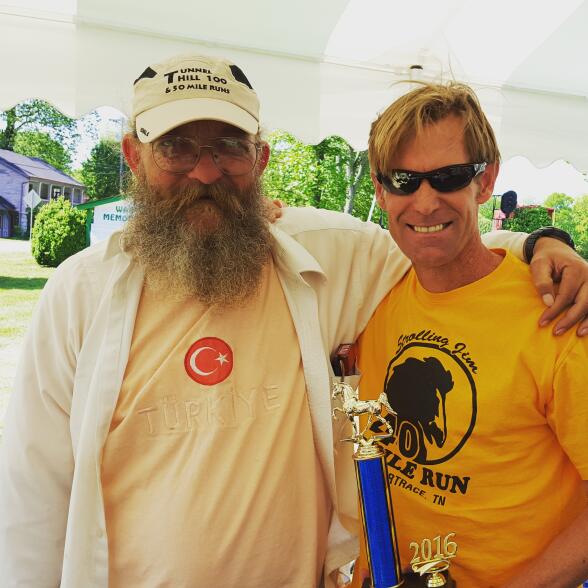 Dink with Race Founder/Race Director Gary Cantrell, 2016
 Taylor Dink M 1987 AL 5:07:22 (age 21)
 Taylor Dink M 1988 AL 5:08:06
 Taylor Dink M 1989 AL 5:00:02
 Taylor Dink M 1990 AL 4:36:33* Course PR (6:45 pace)
 Taylor Dink M 1991 AL 4:49:22
 Taylor Dink M 1992 AL 5:27:33
 Taylor Dink M 1993 AL 4:45:55
 Taylor Dink M 1994 AL 4:54:12
 Taylor Dink M 1995 AL 4:41:27
 Taylor Dink M 1996 AL 5:21:53
 Taylor Dink M 1997 AL 5:13:51
 Taylor Dink M 1998 AL 4:40:15
 Taylor Dink M 1999 AL 5:17:59
 Taylor Dink M 2000 AL 5:35:47
 Taylor Dink M 2001 AL 5:24:14
 Taylor Dink M 2002 AL 4:57:11
 Taylor Dink M 2003 AL 5:07:12
 Taylor Dink M 2004 AL 5:16:07
 Taylor Dink M 2005 AL 4:52:01 *won overall
 Taylor Dink M 2006 AL 4:48:56 *won overall
 Taylor Dink M 2007 AL 5:32:46
 Taylor Dink M 2008 AL 5:32:50
 Taylor Dink M 2009 AL 5:40:43
 Taylor Dink M 2010 AL 6:09:36 *PW, only run over 6:00:00
 Taylor Dink M 2011 AL 5:46:46
 Taylor Dink M 2012 AL 5:29:01 *won overall masters
 Taylor Dink M 2013 AL 5:27:42
 Taylor Dink M 2014 AL 5:27:26 *won overall masters
 Taylor Dink M 2015 AL 5:29:40 *won overall masters
 Taylor Dink M 2016 AL 5:42:33 *won overall masters (age 50)
1,236 miles
Record 9 Gold shirts (sub 5:00:00)
Record 30 consecutive finishes
Record 29 sub 6:00:00