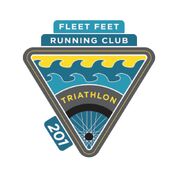 TRI 201 is for the triathlete ready to tackle open water swimming at an Olympic distance! This 16 week program is geared towards the triathlete who has already completed a sprint distance triathlon. We cover the essentials of any triathlon such as swim technique, cycling safety and gearing, run technique, transition, nutrition, injury prevention, stretching and more. We also dive into more specific information for open water swimming, race day fueling, post-race nutrition, further transition techniques, longer rides, strengthening essentials and recovery. It will be a complete training program developed by experienced and certified coaches to guide you to the goal of an Olympic distance triathlon (1.5 km swim, 40 km bike, 10 km run). Our goal race is Rocketman Olympic Triathlon on August 23, 2020. Best of all, this is a fun and welcoming environment to fine tune your triathlon performance. GET WHAT YOU CAME FOR!
Kickoff: Monday, April 27th, 2020 at 7pm
Training Starts: Monday, May 4th, 2020 at 6pm
Weekly Training: Monday evenings at 6pm
Alternate Training: Alternate weekend sessions for longer rides (Announced in April)
Locations: Fleet Feet Sports and Various Madison County Locations for Running & Riding. Some Open Water Swimming in Guntersville and Scottsboro
Goal Race: Rocketman Olympic Triathlon
Early Bird: $180 through 11/30 (Use Code: FFTRI20)
Regular: $200


Required Activity Prior to Start:
A graduate of 2019's Tri 101 program or have completed a sprint triathlon. You must be able to currently run a 5k, swim freestyle stroke for 400 yards continuously and bike 10 miles. You must be at least 16 years of age and understand traffic laws. Also, you must be a US citizen, due to training sessions that access Redstone Arsenal. It is imperative that you meet these minimum requirements!
Overall Program Benefits
16 week training plan
Access to a ITCA or USAT Certified Coach for questions on your training plan
Core, Strength Exercises & Stretch from a Certified Personal Trainer
Race Day Simulation
No athlete left behind policy!
Access to Physical Therapists through Nesin Physical Therapy
Education on training, proper form, transition, conditioning, fueling, injury prevention and more
Weekly newsletter from your Coach with education, tips and motivation
Meet new friends aiming for the same goal
Private Facebook group to connect with coaches and participants
Becoming a TRIATHLETE at the end!
Swim Benefits
Group Open Water Swimming (OWS) Opportunities
Certified Lifeguard and kayak support for OWS
Coach feedback on open water swimming questions
Bike Benefits
Exclusive Bike Fit Clinic with Physical Therapist & Bike Shop Fitter
Bike Gears Coaching
Bike Flat Clinic
Bike Fit discount with local and experienced bike shop
Coaches at various cycling speeds
Run Benefits
Good Form Running Clinic
Coaches at various run and interval paces
Transition & Nutrition Benefits
Nutrition Clinic with a Certified Professional
Transition Simulation & Coaching
Exclusive Gear & Discounts
Training Shirt
Water Bottle
Bag
Swim Cap
Exclusive Fleet Feet Discounts
Exclusive Bike Fit Discount
Registration Details:
Registration: $180-$200
Fleet Feet gift cards can be applied toward training program registration
No refunds, no exchanges, and no transfers at any time
Must be at least 16 years old & understand the rules of the road
Must be a US citizen due to training rides on government property
Training fee does not include race entry fee
What You'll Need:
Bike: There are benefits to having a road bike or triathlon bike vs. mountain bike, but if you have a properly working & well-fitting bike in your garage, that is all you need!
Bike gear: Helmet that is free of defects and cracks is required. Reflective vest. Blinking light. Other bike accessories such as pump and flat tire kit.
Run gear: If you have not been fitted for shoes, please visit Fleet Feet for a free fitting!
Swim gear: Bathing suit and goggles. While visiting Fleet Feet, they can guide you on choosing the right pair of goggles to fit your face well. A swim cap will be provided at kick-off.
Exercise mat: To help you become a more conditioned athlete, we will be doing some strengthening and core conditioning.
Goal Race Details:
Partners
Nesin Physical Therapy will be providing expertise to your training through experienced Physical Therapists attending sessions, giving you someone to ask questions to, exercise recommendations & the correct way to perform certain exercises/stretches, etc. If you are experiencing any physical issues, no matter how small, prior to our training to start, please visit Nesin Therapy for a consultation & let them know you'll be in our programs so they can get you well in no time!