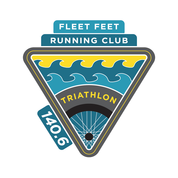 140.6 Training Program is for the endurance triathlete: geared towards the first time Ironman athlete as well as the PR hopeful! This 20 week training plan focuses on taking you the distance in preparing for a 140.6 full-distance Ironman triathlon (2.4 mi swim, 112mi bike (116 for Chattanooga), 26.2 mi run). It will be a complete training plan developed by a Certified ITCA or USAT Coach including two-four monthly group training sessions!
Ironman Training Program
Fall Goal Race: Chattanooga Ironman 144.6 or Louisville
Kickoff: Tuesday, May 5th at 7pm
Group Sessions: Two-four monthly sessions on Saturday and/or Sunday mornings. Some Monday evening optional sessions too.
Prices Per 140.6 Program:
Early bird: $ 280 until 11/30 (Code: FFTRI20)
Regular: $300
Required Activity Prior to Start:
A graduate of 2019's Tri 70.3 program or have completed a half-Ironman distance triathlon in 8 hours or less. You must be able to currently run 6 miles, swim freestyle stroke for 1500 yards continuously and bike 25 miles (15mph minimum). You must be at least 18 years of age and understand traffic laws. Also, you must be a US citizen, due to training sessions that access Redstone Arsenal. It is imperative that you meet these minimum requirements!
140.6 Program Benefits
20 week training plan delivered via Training Peaks
Two-four monthly group training sessions including: OWS, outdoor rides, group runs
Certified Lifeguard and kayak support for OWS
Access to a ITCA or USAT Certified Coach
Access to Physical Therapists through Nesin Physical Therapy
Monthly newsletter with education on training, transition, conditioning, fueling and more
Private Facebook group to connect with coaches and participants
Becoming a 140.6 triathlete at the end!
Exclusive Gear & Discounts
Training Shirt
Water Bottle
Bag
Swim Cap
Exclusive Fleet Feet Discounts
Exclusive Bike Shop Discount
Registration Details:
Registration: $ 280-300
Fleet Feet gift cards can be applied toward training program registration
No refunds, no exchanges, and no transfers at any time
Must be at least 18 years old & understand the rules of the road
Must be a US citizen due to training rides on government property
Training fee does not include race entry fee
What You'll Need:
Bike: A well-fitting road bike or triathlon bike is recommended for this distance race.
Bike gear: Helmet that is free of defects and cracks is required. Reflective vest. Blinking light. Other bike accessories such as pump and flat tire kit.
Run gear: If you have not been fitted for shoes, please visit Fleet Feet for a free fitting!
Swim gear: Bathing suit and goggles. While visiting Fleet Feet, they can guide you on choosing the right pair of goggles to fit your face well. A swim cap will be provided at kick-off.
Exercise mat: To help you become a more conditioned athlete, we will be doing some strengthening and core conditioning.
Goal Race:
Ironman Chattanooga on 9/27/20
Event Location: Chattanooga, TN
Race Website: Ironman Chattanooga
Local Partners
Nesin Physical Therapy will be providing expertise to your training through experienced Physical Therapists attending sessions, giving you someone to ask questions to, exercise recommendations & the correct way to perform certain exercises/stretches, etc. If you are experiencing any physical issues, no matter how small, prior to our training to start, please visit Nesin Therapy for a consultation & let them know you'll be in our programs so they can get you well in no time!
Blevins Bicycle Company began as a humble backyard shop built from the ground up from the perspective of a bicycle mechanic. From a 700 square foot shed to a massive 8000 square foot storefront in South Huntsville. Blevins Bicycle Company has always had the fundamental belief that a working bicycle is the most important aspect of cycling.
My passion for riding started over a decade ago working at various bicycle shops around North Alabama. Like any good bike shop mechanic I took my work home with me. It didn't feel like work at the time. I mean, it's my passion and I wanted folks to ride well maintained bicycles.
- M. Blevins