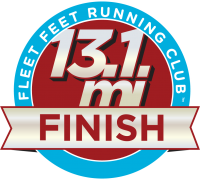 Train for your first half marathon! Or join us to improve your current half marathon time. This 12 week program is led by experienced coaches and mentors. Included in the program are weekly group training sessions, a 12 week training plan, weekly running newsletters and guest speakers regarding nutrition, injury prevention and cross-training. Join Fleet Feet and train while making friends!
Kickoff: Tuesday, January 7, 2020 at 7PM
Training Starts: Saturday, Jan 18th at 6:30AM
Weekly Training: Saturdays at 6:30AM
Speed Work: Tuesdays at 5:30AM or 6PM
Alternate Run: Thursdays TBD
Locations: Fleet Feet Huntsville and various locations
Price:
$130 until 12/9/19 (Use Code: EARLYBIRD)
$140 starting 12/10/19 to 12/31/19 (Use Code: SAVE10)
$150 starting 1/1/20
Benefits
- Two coached training sessions each week (speed work and long run)
- Experienced coaches and mentors to support you along the way
- Daily training plan for 12 weeks
- Education on proper form, pacing, fueling, stretching, and more
- Tech training shirt
- Exclusive Fleet Feet discounts
- Weekly newsletter from the coach with tips, advice, and motivation/encouragement
Registration Details
- Training program registration fee - $130-150
- Training programs can be purchased in-store or online
- Fleet Feet gift cards can be applied toward training program registration
- No refunds, no exchanges, and no transfers at any time
- Must be at least 14 years of age to register
- Training fee does not include race entry fee
Suggested Activity Level Prior to Start of Training
-Run with a pace of 15 minutes per mile or faster
-Have raced a 10K within a year prior to goal race day
-Start the training program by being able to comfortably run 10-15 miles per week and a 5 mile distance for a long run.
-We do recommend that you check with your doctor before starting a fitness program
Questions?
If you have specific questions, please email our Training Director: kathy@fleetfeethuntsville.com
Thank you to our sponsors!