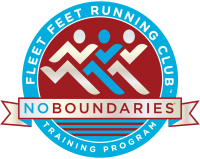 No Boundaries is a beginner 5K (3.1 miles) training program designed for people who are currently inactive or new to running and walking. It is a nationally organized and recognized program, offered at Fleet Feet stores across the country. While the focus is on beginners, all levels of walkers and runners are welcome. The program, like Fleet Feet, is all-inclusive. It knows no shape, size or speed. This 10 week training program includes weekly training sessions, informational newsletters, daily training schedule and educational clinics.
Register Here
Kick Off: Monday, June 1, 2020 @ 7 PM
Goal Race: Running of the Bulls 5K
Program Options:
Mondays at 6 PM and Thursdays at 6 PM

Locations: Fleet Feet Huntsville & Various Locations
Training Starts: Monday, June 8th at 6 PM
Price: $100 (does not include race entry fee)
Benefits
• 10 Weeks of training for beginning walkers, walk/runners and runners
• Two coached training sessions each week
• Experienced coaches and mentors to support you along the way
• Daily training schedule, education on proper form, pacing, fueling, stretching, and more
• Weekly newsletter from the coach with tips, advice, and motivation
• Tech training shirt
• Exclusive Fleet Feet discounts
Registration Details
• Register Here
• Registration Fee: $100
• Fleet Feet gift cards can be applied toward training program registration
• No refunds, no exchanges, and no transfers at any time
• Must be at least 14 years old
• Training fee does not include race entry fee.
Suggested Activity Level
• No previous exercise experience is required.
• We do recommend that you check with your doctor before starting a fitness program.

Goal Race Details
• Running of the Bulls 5K
• August 15, 2020


Questions about our training programs? Email kathy@fleetfeethuntsville.com
Thank you to our sponsors!