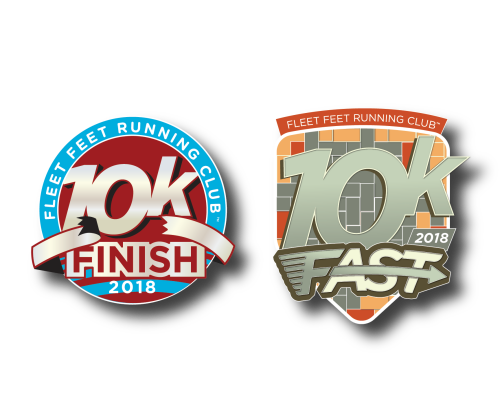 Fleet Feet Sport's Next Steps program is designed for people who want to conquer the Next Step after achieving the 5k distance. 
Starting this Fall,  join Fleet Feet Sports to accomplish finishing your first 10k. This program is geared toward  moderately active runners, but welcomes anyone who has already accomplished the 5k distance.  There will be both running pace groups and run/walk pace groups so that there will be a running partner at any level of intensity in the program. Next steps is an 10 week training program that builds runners up to reaching their 10K distance goal while also providing you with motivation to keep you moving, guidance and advice, weekly group training runs , and educational clinics on topics such as proper nutrition, choosing the right gear, and avoiding injury. Plus, you'll have the camaraderie of others just like you.
-Goal Race: Hobbs Island 10K on Sunday, November 25th at 8 AM
-Registration Now Open
-Kick Off Date: Wednesday, September 12 at 7PM
-Training Start Date:  Wednesday, September 19 at 6PM at Fleet Feet Sports
-Training Location and Times:
-Wednesday nights at 6 PM and Saturday mornings at 7 AM from Fleet Feet Sports and race course.
-Price: $120
Benefits 
- 10 Weeks of Training for Beginning Walkers, Walk/Runners and Runners
- Two Coached Training Sessions Each Week with Knowledgeable, Experienced, and Motivating Coaches
- Experienced Coaches and Mentors to Support You Along the Way
- Daily Training Schedule- Education on Proper Form, Pacing, Fueling, Stretching, and More
- Training Shirt
- Exclusive Fleet Feet Sports Discounts
- One free 30 minutes session on Normatec
- Weekly Newsletter from the Coach with Tips, Advice, and Motivation/Encouragement
Registration Details
- Registration Fee - $120

- Fleet Feet gift cards can be applied toward training program registration
- No refunds, no exchanges, and no transfers at any time.
- Must be at least 14 years old
- Training fee does not include race entry fee.
Sunday, November 25, 2018 at 8 AM
Hobbs Island 10K to Benefit HTC Scholarship Fund
Event Location: Ditto Landing in Huntsville, AL.
Race Directors: Martin Schneekloth
Phone: 256-655-5535
Huntsville Track Club Event: http://www.huntsvilletrackclub.org/index2.htm
Suggested Activity Level Prior to Start of Training
- Have already accomplished the 5K distance and you are looking to push yourself to the next level.
- We do recommend that you check with your doctor before starting a fitness program.
Questions?
 If you have specific questions, please email julia@fleetfeethuntsville.com