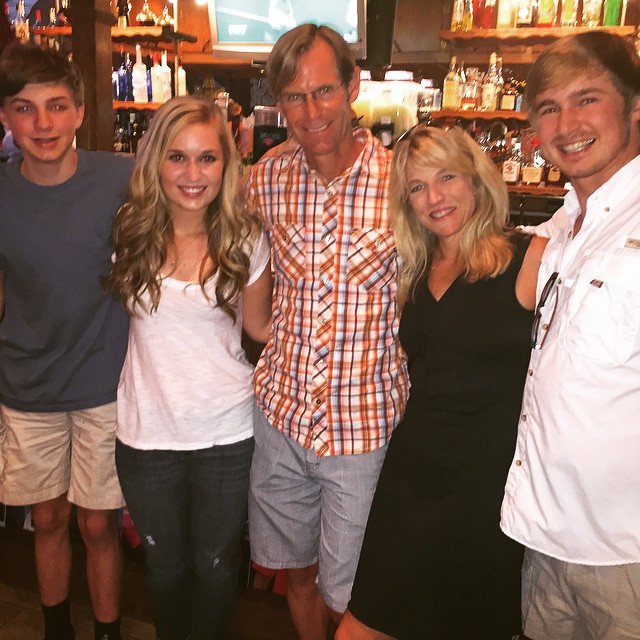 Every Runner Has a Story
Hi!  My name is Suzanne Swift Taylor.  When I was growing up I was Terry Swift's sister and Earl Swift's Daughter.  I am so proud of my dad and my brother. These two men have been huge influences in my life.  Now, I am Dink Taylor's wife, Skylor's Mom and Alan and Cayce's Stepmom.  Of all I have accomplished in my life I am most proud of these things, my family!  My family comes first ALWAYS!  Somewhere in-between I am a business owner, runner, triathlete and friend to many.  
So what is my story?  I am from Houston, Texas.  I worked for the Houston Marathon when I was in my 20's, a long time ago.  I learned a lot from that experience.  I race directed a couple of races when I lived in Houston.     I obviously loved to run.  I have been running fro 27 years.  My PR's don't matter much.  My marathon PR is 3:22 at the Houston Marathon.  I don't know my other PR's.  I returned home a couple of weeks ago to run the Houston Marathon.  More on that later.
In 2000 I was running a lot.  I used to travel with a competitive couple from Houston to races.  They showed me a new side running with ULTRA's.  One weekend we went to Quachita 50 to race a couple of weeks before Boston.  I was going to run the 50K as my last training run before Boston.  Camille and I always stayed together.  Chuck, her husband, did his thing and ran hard.  Dink, whom I did not know, won the 50 miler, Chuck was second and Camille and I finished after them in the 50K.  However, it was just a training race.  At the time, there was no Facebook.  But there was the ULTRALIST.  If you are old school you will remember the ULTRAIST.  I went to Boston, I don't remember my time. I have never been concerned with times...I really just liked to run.  I think the next weekend we went to Crescent City Classics in New Orleans.  Then we went to California and trained on the Western States course.  Then a couple of weeks later we went to Yosemite to Run Shadow of the Giants.  During the race, my leg BROKE!  I mean my FEMUR BROKE.  Long story short it was a bad bad day! They carried my off the trail on a back board.  Transported me to San Jose Hospital where I got some new hardware.  (Note:  this is not my rod but this is similar to what I have in my leg)  I'm only sharing this with you because I still run.  I never thought I would run again!  I pretty much thought my life was over.  You know when runners can't run it's pretty tramatic. I also believe many of us can continue to run through and after bad things happen to us.  We might be slower but we can keep going.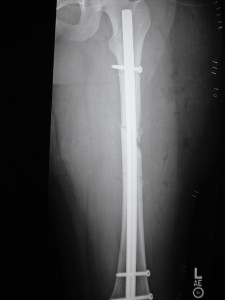 Fast forward, Dink and I continued to talk about running as friends and the before I knew it I had quit my job and moved to Huntsville.  
Dink and I both had a very strong passion for the sport.  Yet, we were still different.  He loves to race.  Me not so much.  I like to train, a lot.  I hate to rest and recover and I put a lot of pressure on myself.  So, I don't race very much.  However, we both believe in volunteering and giving back to something that has given so much to us.  As soon as I moved here I started volunteering.  Dink was already the race director for Mountain Mist.  So, it was a nature fit.  We were in charge of the finish line at Cotton Row at the time.  We just helped out where ever we were needed.  Sometime during the Spring of 2003 Dink and I started talking about what we were going to do with the rest of our lives.  We started visiting with our friends that had running stores.  We talked to Valerie in Birmingham.  We visited with Jim at Fleet Feet in Houston.  After all, Jim had pretty much know me my whole life.  We talked to a few others.  Most people discouraged us and told us how hard it would be.  We didn't listen.  We went to California and met Tom Raynor with Fleet Feet Sports and we were hooked. We were ready to do it.  Dink contacted Steve Carter, his childhood best friend, and asked him to move to Huntsville to help us!  He did and it was wonderful.  
I have made some of the best friends I could ever have through running and Fleet Feet Sports.  We started marathon training groups and I followed everyone around in my car with aid.  I would meet people 3 sometimes 4 times day to get groups running in Huntsville.  I remember the first the first time many of you ever ran.  When I see you running marathons now I think about that first time you tried to run a mile.  
Several year went by we started race directing the Running of the Bulls 5K for the PTA in Hampton Cove.  Malcolm retired from the marathon so we decided to help with that race.  Jim retire from Cotton Row so we decided to help with that race.  We race directed the Half Marathon and the 15K for a couple of years when there was a need.  The Halloween Run went away so we brought it back with the Spooktacular 5K.  Then everyone asked for a Spring Half so we decided to start he Bridge Street Half Marathon.  Remember I don't really like to race much so I am more than happy to help put on races.  Dink and I now volunteer almost every week at a race.  It's just something we do!  If you are running the race try volunteering a couple of times a year.  The races can't happen without the volunteers.  Most of the time when I work a race I log more miles than if I ran it.  Volunteering can be exhausting but fun!  
I have ran several more marathons since Dink and I have been together.  I have run Boston 2 more times.  My last Boston was in 2013 the year of the bombings.  I had just crossed the finish line when the bombs went off.  It was as scary as you think.  I will forever remember the sites and sounds of that day.  I will also be BOSTON STONG!  I will write about that day in another post.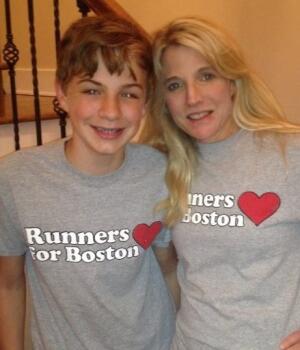 A couple of years later Dink had his stroke.  He decided he was going to be an "IRONMAN".  I decided if he was going to do that I would have to train with him.  I just did a half and had a great time.   I really enjoyed the sport and the training.  Shortly after my Half Ironman I found out I had Malignant Melanoma on my leg.  DAMMIT!!  They took a nice chunk out of my leg.  I still have some nerve damage in the leg but I just ignore it most of the time.  that's another story for all the sun lovers out there.  The picture of my leg is still too gross to post.  
Then Melissa and I trained the following year for Ironman Maryland.  It was canceled the day we arrived in Cambridge.  So, I was a little disappointed.  I had trained hard and made some sacrifices.  Well many sacrifices.....
I moved on and trained for and  finished Chattanooga Ironman.  It was HOT.  Lots of folks suffered that day.  I was just glad to get it done.  What I learned from that was ANYONE can do anything...and ANY IS POSSIBLE.  I had signed up for several races following Ironman.  But my main focus was Houston Marathon.  I trained but had many many obstacles as everyone does when training for races.  I was ready to run.  Then one week before the race I hurt my foot DAMMIT!
I was so upset.  Desperately want to go home and run the marathon.  My internal struggle was deep.  Should I run?  Should I not run?  Would I be a bad example if I didn't run or I quit.  Would I end up in a boot for six weeks?  Well, I was going to run!  I wasn't going to run!  I got up got dressed my foot hurt and I decided not to run!  Now, I am telling everyone I didn't run!  Why am I doing this?  I don't know...maybe because I think it's ok.  I KNOW there will be another race and another day to run!
I think it's important to remember why we run.  Everyone's why is different.  Running is a part of me, I love the sport, I love the people, I love to help people achieve their goals.  This is who I am!  I'm glad we have Fleet Feet Sports and I'm glad I got to know you through running!