Running Friends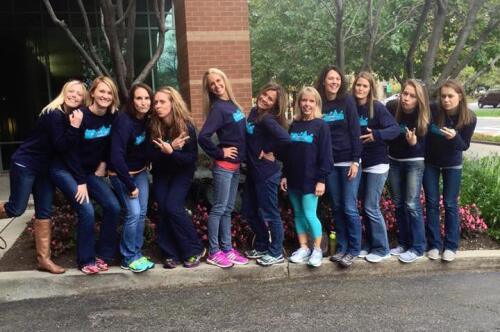 On May 9, 2009, I was introduced to the Crazy Girls.
I was standing at the starting line of the Steeple Chase 8k in Decatur, and two women approached me and said they had seen me running in Madison. After the race, these two women I had just met cheered for me as I accepted an age group award. They invited me to run with them the following week, and I learned there were more of these Crazy Girls who ran at 5 am around Madison. 
There is something about those early morning runs with your friends. As you share miles, you also share stories, laughter, and sometimes tears. Trust builds along with your endurance. These become the people you suffer with during a hill workout and rejoice with at the finish line. They become the people you grieve with during difficult seasons of your life and celebrate with during the good times. For better or worse, in sickness and in health - it's almost like a marriage vow. These girls and I have seen (run) each other through marathon PRs and DNFs, weddings, pregnancies, the death of a parent, divorce, injuries, cancer, new jobs. We babysit each other's kids. We cook meals for each other. We pray for each other. We meet for a run at 4 am because one of us has to work early. We sign up for marathons and call them "girls' trips". We run mile loops around someone's house, because her husband is out of town, and she wants to stay close while her kids sleep. We suit up and show up - on the roads, the track, and everywhere else. 
Your running friends are your group, your tribe, a gaggle of Crazy Girls - whatever you want to call them. They are in it for the long run (pun intended). Even though the girls and I are all so different - different backgrounds, jobs, churches, stages of life - I have no doubt that God brought us together through our love of running. I look forward to many more years of running with the Crazy Girls.