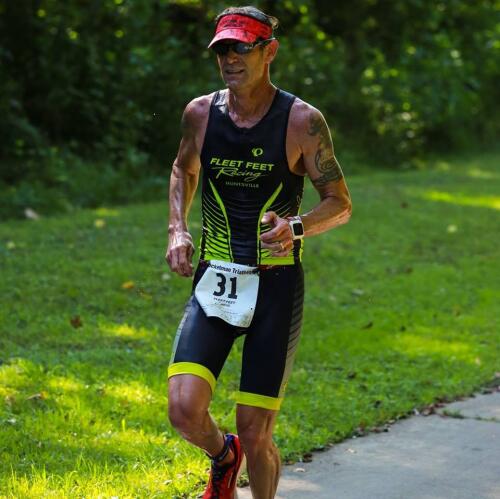 On the Run with Dink
I have been writing about running and racing for many years. Sometimes I get very busy with work and events to the point that I don't feel like writing about running, I need a break. But running is still always on my mind and no matter what is going on in my life; running is what my life revolves around, even when I get injured and can't run.
I spent much of 2016 dealing with injuries. This is something that is somewhat new to me. I came off an 18 year run with little to no injuries, certainly nothing that stopped me from running. I can think back to the late 1990's when I was dealing with Plantar Fasciitis; I was down to running 20 miles per week and thought my running was over.  After adding a premium insole to my shoes, I was soon able to return to normal training.
This past year, I was forced to take off six straight weeks of running, what I would have given to get that 20 miles a week, I was at 0. My hip was bothering me so much that I could not even ride the bike without being in pain. I resorted to swimming about 5 miles per week, it was better than nothing. I ended up going to see Dr Franklin at SportMed. After an MRI he prescribed Physical Therapy over at Nesin Therapy.  
I became a regular over at Nesin Therapy and spent 17 weeks getting regular treatments. With the good folks over at Nesin, I was able to at least get back to some running. I continued to swim and my pain on the bike was gone. My hip was still irritated on the run. The folks at Nesin said I was too tight, years of running and not enough stretching had taken a toll on me. Although the pain in my hip would just not go away, I was at least able to get back on the run enough to compete in the Rocketman Olympic distance Triathlon. I certainly was not at my best but it sure felt good to be back out there participating.
I stopped getting PT although I still had pain in my hip when I ran, very irritating. I felt like although my times training and racing were much slower; I could at least be out there. This hip pain was just something I would have to live with. Dr Franklin told me it was soft tissue, so no structure damage, this told me that I could keep running.
In November, I went ahead and eased through the Huntsville Half marathon, although not competitive but I felt okay. Then a couple of weeks later did the JFK 50 miler in Maryland, a race I have been running annually for several years now. JFK was another PW, Personal Worst. This is something I have grown accustom to now. I feel like this is something all runners will have to deal with if they live long enough.
A few weeks later, I ran the Rudolph 5k downtown. I hit the first mile in 6:18 and I thought to myself, my old self is coming back! Then, in the second mile I felt my hamstring tear. I am still convinced that the tear occurred from the issues in my hip. I backed off a few weeks and then as all hard headed runners, I went up to the Pistol Ultras in TN and ran their shortest race, a 50k. You know, "fear of being left behind."
The 50k on New Year's Eve started out well. I could feel some pain in my hip but ran pretty comfortable. First loop of three was good. Second loop was 5 minutes faster. I was thinking, I am going to run the third loop 5 minutes faster to and win my division, even with a little hip pain. 20 mile marker, hamstring tore again. Yes I limped on in the next 11 miles, did okay finishing the 50k in 4:26.
So I started 2017 off with NO running first 27 days of this year. Doctor said no running 4 weeks. I made the decision to get cortisone shot in my hip. I had good luck with cortisone one other time so, I was not running and this seemed like a good time to try again.
Although I was not running, I could still swim and for the first time in my life, I have been riding on bike indoors. I never dreamed I would ride the bike indoors but I have found this to be a good way to maintain some fitness while you can't run. It is also good for you mentally. To feel like you are training.
While I was not able to run for those 27 days in January, I did some thinking. Were my running days over? I had just logged my 100,000th running mile at the end 2016, maybe I reached my limit? Maybe 1,261 races had taken its toll on me? Maybe it was the 261 marathon and ultras? Maybe I was just being too lazy?
Lazy? What in the world could I mean by being lazy? Maybe I am being lazy by not stretching enough? I really don't like stretching though, I still don't. But I have discovered something else and it seems to be working very well for me. If you have been to Fleet Feet Sports Huntsville lately or around me lately, you know what it is I am talking about.
It is Addaday. It is a stick designed to roll out the muscles. I have stopped being lazy. I have been back running since Jan 28. I am in my 5th week and although I may not be 100 percent, I feel optimistic. I use the Addaday ultra stick daily, before every run. I start on the calves and lower legs, and then move to the hamstrings. It only takes about 5 minutes of my time and I will not go running until I roll out first.
I ran a 5k a few weeks back in 22:57, another PW but felt good about it. Ran Tickeridge 25k, 25 minutes slower than the previous year but without issues. One week later, another 5k in 20:55. I even ran the Mt Cheaha 50k this past weekend in 6:15, another PW but I got through it on 4 weeks of training. I would not have run Mt Cheaha but I have run all 12 of the races so I felt like I needed to maintain my perfect attendance. I have not run a single run without rolling out with the Addaday roller this year.
I plan to try to continue to train. It has been over a year since my hip issues started but I feel like I am headed in the right direction. We must continue to keep moving, find ways to get better. Take the extra steps required. Get your muscles warmed up before you go running, don't wait until something bad happens to you, like I did. I am looking forward to seeing if the Addaday Ultra stick is the answer to my running woes, I look forward to the road ahead in 2017.