We would like to thank you for an amazing past 10 years! To all of our wonderful loyal customers: THANK YOU! We certainly would not be here without you! It is an honor and a privilege to serve you and we are truly grateful that you appreciate us and what we do every day.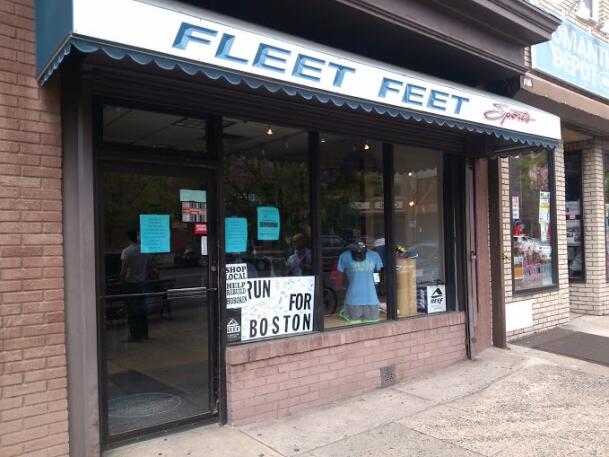 At this time, we are facing a serious challenge to our next 10 years, in the form of a behemoth national competitor (with much money) that would like to have you believe that they are a small locally owned and operated store like we are, when that couldn't be further from the truth. We'll get to Goliath in a minute, but first here is the story of David. Of a small locally owned and operated store that was built on blood, sweat and tears (literally not an exaggeration-please let us share before and after photos and stories of how we did the build-out ourselves). Of a store that does the right thing by you and by our town, day in and day out, in every sense of the word.
As Chuck Klosterman once wisely wrote, "It doesn't matter what you can do if you don't know why you're doing it." Our people-first approach is to constantly strive for holistic improvement, because we are here together trying to better each other, and we all want to fully enjoy the quirky intricacies that make Hoboken the unique community that it is.
Local Really Does Matter
Our store is comprised of the friendliest, most knowledgeable and dynamic staff that you may ever be fortunate enough to encounter. (Just ask any of our customers!) We have college students who are earning their way through Stevens Institute with winning attitudes and humbly brilliant minds. Come in and ask them about the robot they just built, the incredible chemistry experiment they just successfully completed, or their enlightened vision for the future. You will quickly find glimmering examples of why America will continue to be the best and brightest country in the world. Our accomplished and selfless educators radiate their passion for running and fitness with you on their nights and weekends. Ask them about their recent experiences completing the NYC Marathon, and they'll enthusiastically turn the attention to you while giving you advice and encouragement to complete your own one day if you wish. And of course our ownership; simply put they would literally give you the shirts off their backs, and provide the rock solid foundation for everything that is right with locally owned and operated small businesses.
Team Fleet Feet Hoboken is here for you 65-70 hours per week, late nights and all weekend, giving you only the very best in service, product knowledge, and kindness. Our pride and joy comes in the form of your happiness and fitting your feet in the best pair of shoes.
Goliath
As for Goliath, Goliath operates under the disguise of being a small local business, but how many small local businesses do you know of that can plunk down $30,000 per month in rent, and have for months on end, without selling a single shoe lace?  Yes that's right folks-there is nothing local about The New Jersey Running Company. They are actually part of the mall based chain called The Finish Line. Their limitless resources have even allowed them the grandiosity to purchase the domain name run.com.
Before Social Media
Remember 2003? Seems like a long time ago doesn't it? When we opened, Facebook (where you will find daily inspiration at Fleet Feet Hoboken by the way) didn't exist yet! That was when we began helping you, our fellow Hobokenites, achieve your running, walking and fitness goals. It was also when we started contributing to numerous local charities, schools, organizations, and events. Likely many of you reading this right now represent organizations that have sought our assistance over the years, which we have gladly provided. We have hosted and/or contributed to more pre-race packet pickups, races and functions than we can count. Why? We practice what we preach, and well, we believe firmly in the following statistic:
For every $100 spent at a locally owned business (David), $73 stays right here in Hoboken.
For every $100 spent at a non-locally owned business (Goliath), only $43 stays in Hoboken.
Who cares right? Well, 80% of the jobs in America are supplied by small locally owned and operated businesses, of which Hoboken has a beautiful and diverse mix (it would be unfair to identify only a few here when there are so many great ones-and they can absolutely all stand proudly and speak for themselves, but we would encourage you to look for Small Business Saturday logos, posters and mats this weekend, and you will be treated to an excellent shopping experience no doubt). You won't find a Small Business Saturday mat outside Goliath's lair, no in fact, Goliath is much closer to owning American Express than to being eligible for participation in one of their small business days. Buying local keeps locals employed, and the dollars we spend locally recirculate 7 times. The more times those dollars recirculate, believe it or not Hoboken then benefits through a greater budget for crucial infrastructure including parks, clean neighborhoods, and utilities. After last year, you certainly know how vital those resources all are. Those circulating dollars allow us to provide you with an outstanding and all-around Grade A experience facilitated by our wonderful staff. Every item you purchase from us, even a Power Gel for a buck or so, truly matters!
Shop Local This Holiday Season
So on during this Holiday Season and beyond, you have a choice Hoboken. If you like who David is and stands for, pass this on to a friend. As any true small locally owned and operated store will tell you, word of mouth is our best form of advertising. If you haven't visited us yet, please stop on by, and we'll welcome you with open arms! Give us a chance, and see all that positive talk around town in action. Stop in on your run and enjoy some water or use our restroom if you need to. Come join us for one of our Wednesday night fun runs. Come out and run with The HoHas or Elysianettes on one of their many runs from our store. Think of us when you think of fitness. Together let's make the next 10 years even better than the last 10!
Happy Holidays and all our Best Wishes!
All Your Friends at Fleet Feet Hoboken (The ONLY Locally Owned and Operated Running Store in Hoboken)