Last month, one of our loyal customers accomplished a very impressive, challenging race. Ed Plante headed out to the Rocky Mountains of Colorado to participate in the Leadville Trail 100. This 100 mile race attracts about 1,000 runners of which only 500 finish. Keep reading to hear about Ed's 100 mile journey!

Q: What made you sign up for a 100 mile race?
 A: This was my second 100 miler. The first was at the NJ Ultrafest last year which was essentially flat loops. Leadville varies between 9,200 ft and 12,600 ft so the challenge isn't just to run 100 miles but to run it 2 miles above sea level. I guess the simple answer is I signed up to see if I could do it. With a 50% dropout rate and having to live and train in New Jersey, I had real doubts. That's what has driven me the last few years to go beyond typical road races. I want to test my limits and see what's possible.
 Q: How many months did you train for this race?
A: I qualified for Boston last October so I was in good shape at that point. I took it easy for a few months around the holidays before establishing a base of 50 miles per week through the winter into spring. I ran a tough 50 miler at Bear Mountain in May and used that as the start of my peak training period when I ran more than 600 miles between June and July. Then I tapered for a full 3 weeks.
Q: What was your longest training run prior to the 100 miles?
A: I used shorter ultra-marathons as training runs whenever possible because it's a lot easier to get motivated when you have other people to run with. The longest was a 100K in June but not all miles are created equal. One of my favorite training runs was a Great Range Traverse I did in the Adirondacks that was about 23 miles and took almost 9 hours. It's rated one of America's toughest day hikes with eight 4,000 ft summits and 17,000 ft of vertical. I did a lot of really hard miles like that, tried to find the toughest trails around, etc. I wasn't as concerned about mileage as I was about time. I aimed for a 6-10 hour run every weekend during the summer.
Q: Did you literally run for 100 miles straight? How many stops and what for?
A: No, on a flat course I can run continuously, without walk breaks, for about 50 miles. But no one runs every step of the Leadville course. Even the leaders use a run-walk ratio of about 70%-30%. In ultra-running a typical strategy is to powerwalk the uphills, jog the flats and run the downhills. My mantra is continuous forward motion, at any speed, gets it done. With that in mind, I don't like to take breaks. My longest stops were 10-12 minutes changing shoes and treating blisters at a couple of the aid stations. Out on the trail I never stopped for more than 20-30 seconds on some of the really steep sections when I had to allow my heart rate to slow down.
Q: What was your official finishing time / overall place?
A: The race has a 30 hour hard cutoff. I finished in 27:00:19 which was 198th of 497 finishers and 944 starters.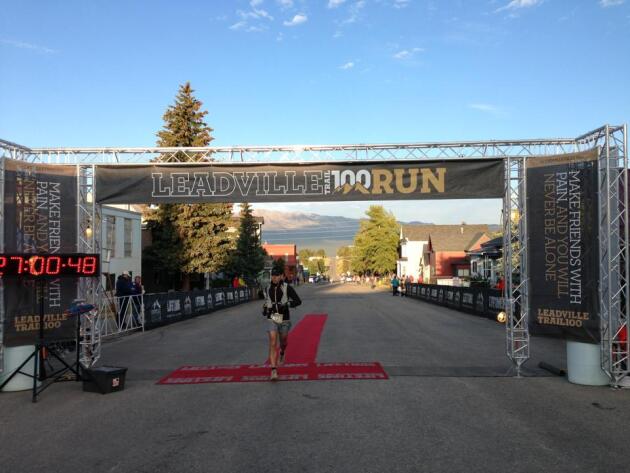 Q: What did you eat and drink during the race?
A: I carried a Nathan vest with a 2L bladder that I filled with water. Aid stations were spaced about 2-3 hours apart. In between I consumed mostly Gu / Powergels (about 25 total). At the aid stations I ate everything in sight. Liquid calories were the priority so coke and ramen soup first but also chips, pretzels, cookies, pb&j, saltines and anything else that looked like it wouldn't make me sick at the moment. I had a lot of stomach issues over the last 30 miles that affected my pace somewhat. But honestly, I think that comes with the territory. I managed to keep everything down and I bet if you did a survey I was probably in the minority in that respect.
Q: What do you do to keep your mind focused during this extremely long distance run? 
A: Technical trails by their nature require a lot of concentration or you'll wind up on your face in a hurry. So the situation kind of forces you to pay attention. Besides that there's incredible scenery to appreciate, miles to check off, runners to chat with, you're always mentally engaged. I also had a pacer for the last 40 miles. She really helped me stay focused especially when I started to tire towards the end.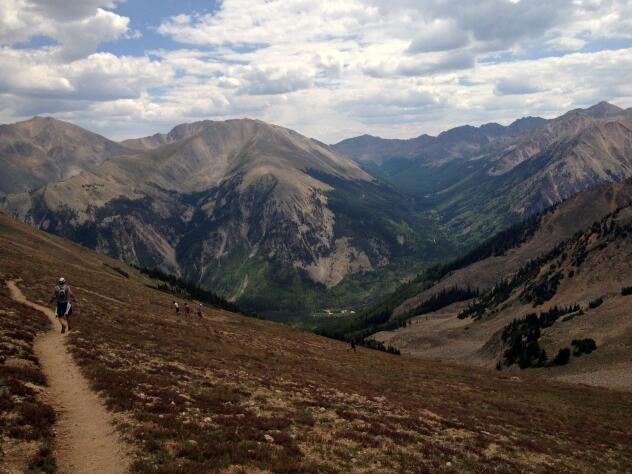 Q: What was the most challenging part of the race? Physically and/or mentally?
A: The crux of the race was definitely the double crossing of Hope Pass. Starting at mile 40 the route climbs 3,400 ft up to the top of Hope at 12,600 ft in less than 5 miles. It then drops down 2,400 ft to the 50 mile turn around. After that you have to retrace your steps and immediately go back over Hope. Miles 40-60 are where the majority of people drop out. I knew if I could get through that section in reasonably good shape I had a high probability of finishing.
Q: How did you reward yourself after the 100 miles?
A: My reward was taking it easy and cutting back on my weekly mileage. I've had a lot more free time these last few weeks. That's probably the hardest part of training for races like Leadville, the time commitment. But it's also one of the things I really like about running. You can't fake it. If you show up on race day and you've done all the work, good results usually follow and vice versa of course.
Q: How did your legs feel the next day?
A: My legs were sore but not significantly worse than other long races I've done. I was a little surprised by how stiff my upper body was. The best way I can describe it is it was like being in a car accident. I was sore in places I didn't even realize I was using much; back, neck, shoulders, elbows, etc. But I was able to go for an easy jog two days later. Active recovery is best, in my opinion. I know people who take a week off after a marathon. I prefer to get moving again as soon as possible.
Q: Would you run a 100 miler again? Any advice to those thinking of running this type of distance/race?
A: It's too soon for that question, haha. Seriously, I'm sure I'll run another 100 at some point. I'd like to run Leadville again but probably not until I can train at altitude. My advice to anyone interested in doing a similar race is don't let anyone tell you you're crazy. I think a lot of people hear about a race like Leadville and think I could never do that. As the saying goes, whether you think you can or think you can't, you're probably right.
Q: What shoes did you run in?
A: I ran the first 40 miles in Hoka Stinson Evos. They are specifically designed for ultra distances with lots of extra cushion, kind of the anti-Vibrams if you will. At mile 41 the route crosses a wide stream followed by 10,000 ft of vertical over the next 20 miles. I switched into a pair of Salomon Speed Cross 3s for that section. Then back to the Hokas for the last 40 miles to the finish.
Anything else you'd like to share? I'd like to thank the runners at Fleet Feet for helping me train this summer. And thanks for giving me an opportunity to speak about a topic I really enjoy.