A "Bra-ll" to Action
Empirical information tells us that 8 out of every 10 women are wearing the wrong size sports bra when they work out. (That's 80%!!)
Simple conversation also tells us that a great percentage of women have bras that have celebrated birthdays, and in some cases many, many birthdays. Partying should be for friends, family and fun .... never for sports bras!
That said, Fleet Feet Sports Hoboken is proud to unveil our new rejuvenated bra wall, comprised of Moving Comfort, our industry's leader in fit, function, and arguably, also fashion! Now is the perfect time to update your collection and "bra-den" your workout horizons. :)
As depicted in the above video, we now feature the Fiona in white black and pink, the Vixen in Black and a very Lil Miss Vixen (if you get the "OC" reference, you rock) Purple, and the Serena in Black. Fashion forward and economically excellent = what a team! Feel free to consult our friendly and knowledgeable staff if you have any questions regarding which option is best for your workout routine.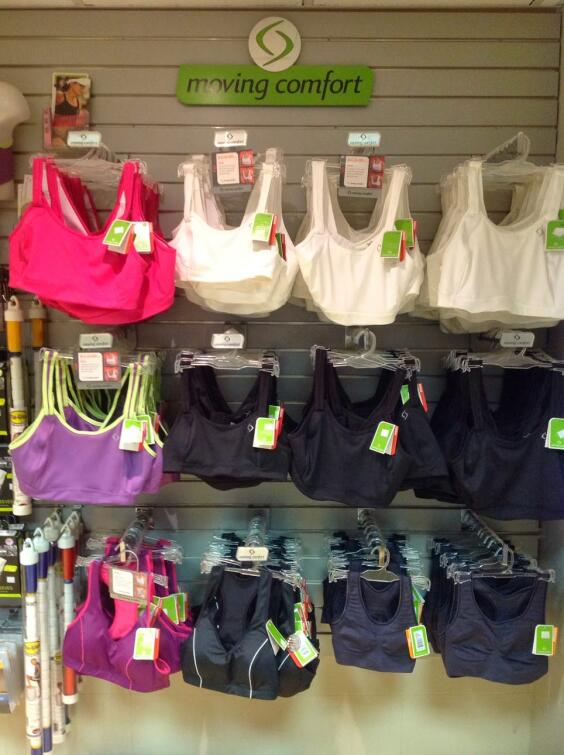 Other fun general sports bra notes and suggestions:
-You should always have at least 3 current and correctly sized sports bras in your collection, and through this rotation, you will get the most out of each.
-Never dry bras in the dryer. Doing so breaks down the elasticity and shortens their life spans. Always hang dry them.
-When you first purchase, start at the loosest hook in your correctly fitted sports bra, and adjust tighter over time.
Another reason why the time is now:
October is National Breast Cancer Awareness Month, and for the rest of the month (while supplies last), you will receive a free gift with your sports bra purchase compliments of Moving Comfort and Fleet Feet Sports Hoboken! Additionally, when you give us your email address with purchase, it will be entered into our random prize selector for a chance to win another free Moving Comfort Bra at month's end! We look forward to helping you be fit, healthy and comfy (Moving Comfort Comfy!) this Fall and beyond!