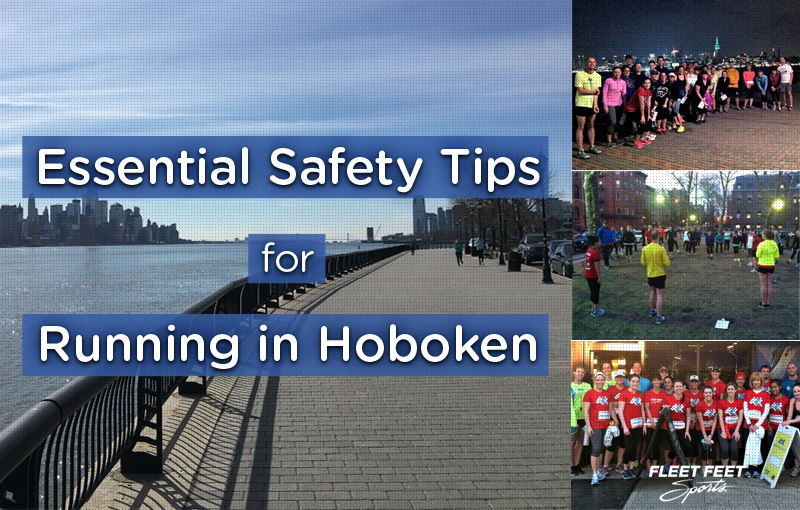 Essential Safety Tips for Running in Hoboken
Due to busy schedules or personal preferences, many runners often run by themselves. If you run solo, it is important that you take the necessary precautions to safely navigate the streets of Hoboken. Safety needs to be a priority when you're logging miles in the early morning or in the evening. This time of year we have less daylight and making yourself visible is crucial.
Wear bright, reflective clothing
You need to be seen by motorists and dark colors do not make you visible. When running in low light, it's important to wear reflective or illuminated gear, so drivers can see you crossing the street. Fleet Feet Hoboken has plenty of reflective clothing, headlights and wearable blinking lights to help you be seen.
Skip the headphones
It's easy to get caught up in a song or podcast and not hear traffic, cyclists, or pedestrians. If you absolutely need to run with music, leave one ear bud out or play the music low so you remain aware of your surroundings.
Run towards traffic
Remain alert and always run against traffic. It's easier to avoid a car or bus if you see it coming towards you.
Use technology
There are apps, such as bSafe, which act as a siren lets friends track you, alerts them when you arrive safely, or it alerts police that you're in distress. SafeTrek alerts police when you need assistance and it has a failsafe button to prevent false alarms.
Some Garmin watches have a live tracking feature so your family can know where you are at all times. Alternately, you can activate the tracking feature on your cell phone.
Carry some form of identification on you. Road ID is a great way to let emergency personnel know who you are, provide critical information (emergency contacts, allergies, health insurance info, etc), and are easy to wear.
Buddy up
There's safety in numbers. Even a dog makes a good running companion. If you're looking for a people to run with, we host fun runs every Wednesday night at 7pm – all year long. With a variety of paces, you are guaranteed to find someone to run with.
Wear a headlamp
A headlamp illuminates darker roads so you can see where you are going. It also allows cars to see you. We have plenty in stock and can help you choose the right one for your running needs.
Stick to populated areas
Don't run in secluded or poorly lit areas, especially at night. Running in a well populated area, such as Washington Street or along the piers.
Vary your routine
When possible run at a different time or try a different route. Even running your route in reverse can throw off anyone following your patterns. Also, don't share your run or pics on social media platforms until after the run!
Bring your phone
You don't need to be in danger to appreciate having your phone handy. Whether you turned an ankle in a pothole, are exhausted, or experiencing stomach distress, it's nice to be able to call for help.
Run during daylight
When it's feasible, go for a run during daylight hours. Shorter runs could be done on a lunch hour. Baby wipes or cleansing towelettes can help you clean up in an office bathroom.
Trust your instincts
If something or someone doesn't seem right, trust your instincts and leave for a safer location. Don't worry about hurting someone's feelings, safety first.
If you see something, say something
If you are harassed or notice something out of the ordinary, call the police. Time is of the essence so report incidents as soon as they happen.
We encourage you to keep enjoying your runs, just take a few safety precautions while you're out there!
Do you have a safety tip you'd like to share? Tweet it to us at @FFhoboken.