Meet our awesome customer of the month,

Lory Jackson-Alcaro

!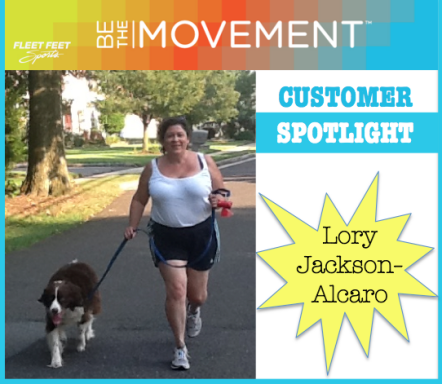 How long have you been running? I started running in high school for our track team. My friend and I laughed that we probably had the shortest track season in the history of our school. A permanent back injury kept me from any hardcore participation, but I never lost the passion for running. 
What race distances have you run?  I loved sprints actually; getting all of that energy focused and being able to see the finish line. These days I much prefer the journey.
What is your favorite race distance? For the moment I'm favoring a 5k distance as I'm " starting over" after a one year healing process from a knee injury. I tore my meniscus and my MCL. I'm so grateful to be back up out of the wheel chair and walking without the crutches. I'm beginning this training from step one and it feels great! 
What is your favorite exercise?  I have to say that I love Biking! It's a new discovery for me.
What is your favorite brand of running shoes? It's my Saucony's! Hands down, no questions! Love, love, love them! And my dog Parker does too! When he see's me put them on, he knows we're hitting the pavement together! 
Favorite post race reward: I know this may sound corny, but my favorite 5k is a charity run for children called The Big Chill. It happens every December. After that run, all the participants go into the gym and the stage area is covered in thousands of toys donated by the runners, walkers and sponsors. Honestly, seeing that room filled with people and gifts for the kids is a huge, heart warming reward. 
What is the one thing at Fleet Feet that is a must have for you? Oh, my secret obsession is Reef's.
Do you remember the first time you came to Fleet Feet? What was your experience like? My first time in fleet feet I was at the end of my lace, lol. I could not find shoes that would give me the support that I needed for my feet or my back. What I received was a great pair of shoes, that exceeded my expectations (I wore them right out of the store) but better still was the customer service. To have someone listen and actually give me great options and sound advice was the best surprise of all! I haven't missed a season since, for running shoes or my summer must have's. I feel like I have made family friends at Fleet Feet! 
Lastly, what are your running goals for 2013? My running goals for 2013 are to get back into training! I missed the Fleet Fleet summer training because we still weren't sure about the knee. But I'll be taking small steps to build up strength until the next one!