Meet our awesome customer of the month, Jill!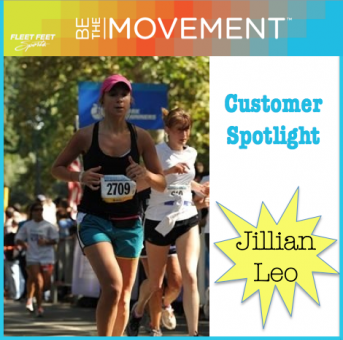 Twitter: @jilliansprinkle
Instagram: @jillianleo
How long have you been running? I used to run cross country in middle school, but didn't start running again until college. I've been off and on running (due to hip surgeries) for about 6 years. 
What race distances have you run? I've run a 5k and a 4 miler. I trained for a half marathon but ended up not running it because of an injury. I am signed up for the Brooklyn Rock n Roll 10k this Fall and plan to train safely with no injuries! 
What is your favorite race distance? I enjoyed the 4 miler, but I have a feeling that after the 10k, that will be my favorite distance! When I was training, 7 miles was always my favorite distance and the 10k will be just shy of that.
Any PRs you'd like to share? 4 miler: 33:09, 5k: 26:31 If anyone else ran the Hoboken Party with a Purpose 5k in 2012, they know that it was about 95 degrees, so I am quite proud of this PR!
What is your favorite exercise? I just started CrossFit a few months ago and absolutely love it! The workouts are intense and not as long as your typical group fitness class.
What is your favorite brand of running shoes? Brooks. I used to wear the Adrenaline, but now I am hooked on PureCadence. I love the minimalistic feel and it still has ideal support for my high arch.
Favorite post race reward: I know most people would probably choose some sort of food for this answer, but truthfully, I'd say that a rest day is my favorite reward. I've only run two races, but it's enough to notice that I push myself a lot harder on race day, so my body really appreciates having the next day off.
What is the one thing at Fleet Feet that is a must have for you? Brooks running shoes!
Do you remember the first time you came to Fleet Feet? What was your experience like? Yes, I came in to be evaluated for running sneakers that were right for my feet. The customer service was excellent. The sales person took the time to analyze the way I run/walk to find the perfect shoe for me. I left with my first pair "real running shoes"!
Lastly, what are your running goals for 2013? I hope to finish the Brooklyn 10k in 55 minutes or less, and I want to improve my 5k PR.