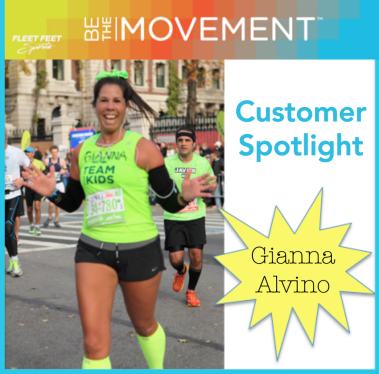 Meet our awesome customer of the month, Gianna Alvino. 
Twitter: @Run_Lift_Repeat
Blog: Run Life Repeat
How long have you been running? I started running just for weight loss around 2006. It wasn't until 2010 when I was running up to 6 miles a day that my sister suggested I run a half marathon with her in March of 2011. The second I finished, I was addicted. And it has only grown from there…and funny enough she hasn't raced since! 
What race distances have you run? Every and any from 5K to an Ultra Marathon – 50K!
What is your favorite race distance? Definitely the half marathon. I have figured out how to "race" that distance. I am trying to learn to like short races but I prefer that comfortably hard feeling of the half versus feeling like I am going to bust by the end of a 5K! And, with only a few marathons under my belt still learning how to run a consistent race in one.
PRs? Half marathon: 1:53:14 and Marathon: 4:26:35
What is your favorite cross training activity? A toss-up between Flywheel (indoor cycling) and Body Pump (total body weight conditioning class)
What is your favorite brand of running shoes? Mizuno's!
Favorite post race reward: Do I have to pick just one? Mostly things I avoid prior to race day: burgers and fries, or Mexican! And of course replenishing those carbs with some beers.
What is the one thing at Fleet Feet that is a must have for you? Well my favorite thing is that if Fleet Feet Hoboken doesn't have it they will special order it for me. But really - having all the latest gear options. I never walk out empty handed!
Do you remember the first time you came to Fleet Feet? What was your experience like? I was oh so clueless about everything! I didn't go in until after my first half marathon and FINALLY was fitted properly for shoes. I loved the patience as I think I took several pairs out for trial runs before finding the right one for me. It was then that I fell in love with Mizuno's and have made my way through many pairs and models of their shoes!
What are your running goals for 2014? My number one is to break out of my comfort zone and push it more often. I find myself in cruise control quite often and realize I am faster than I give myself credit.
I would love a shiny new half marathon PR – and to break 1:50 by year end.
On the fence about a full marathon this year after running a few last year and getting a little burnt out. If I do - my sub 4 didn't pan out last fall so that would be the goal.