Meet our awesome customer of the month, Bradford Antes!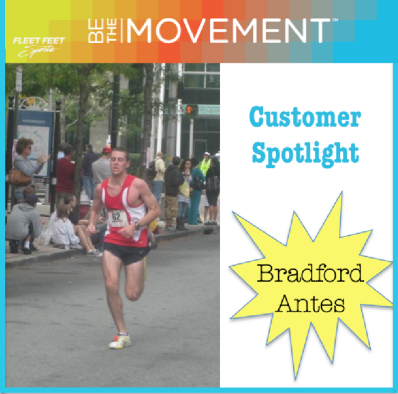 How long have you been running? About 12 years. Since 7th Grade.
What race distances have you run? Mile, 3k, 2 Mile, 5k, 4 Mile, 5 Mile/8k, 10k, 15k, Half Marathon and a 20 Mile Trail Run
What is your favorite race distance? 10k - Long enough where you need some good mileage but short enough where you can still run a good time on lower mileage!
What are your PR's? Mile – 4:29, 3k – 9:06, 2 Mile – 9:45, 5k – 15:39, 4 Mile – 24:06, 5 Mile/8k – 26:45, 10k – 33:20, 15k – 52:03, Half Marathon – 76:21
What is your favorite exercise?  Probably the elliptical trainer. As long as I can get to a gym that has one.
What is your favorite brand of running shoes? Brooks. I have run in the Adrenaline for as long as I can remember.
Favorite post race reward: Free beer!
What is the one thing at Fleet Feet that is a must have for you? My brand of running shoes!
Do you remember the first time you came to Fleet Feet? What was your experience like? I think it was freshmen year of college. I went to Stevens Institute of Technology in Hoboken and needed a new pair of training shoes for the cross country season. Fleet Feet was the only running store I knew that was close to campus, so I went to check it out. My experience was great! I still remember everyone I met during my first visit and have continued to shop there every since.
Lastly, what are your running goals for 2013? Run some races this fall including NYRR races and the HoBOOken 5k!