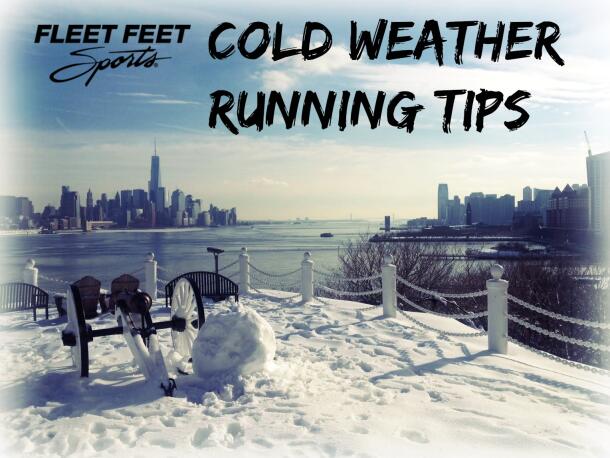 The temperature may be frigid but runners don't have to resort to hibernating indoors during the winter months. The right clothes and a few tweaks can make running outdoors in the cold much more bearable. We've put together seven tips get you motivated and ensure that you are warm and safe whether you're training for a spring race or participating in our Winter Warrior Program.
Motivate yourself with a race or train with a running group.

Become a Winter Warrior and join us Wednesday nights, now through March 11th, for a group fun run. Walkers are welcome too! Prefer to train for a race? Our No Boundaries "Second Step" 5 mile program is fully coached and trains for the HOHA 5 mile program in Hoboken in May.

Layer your clothing and wear synthetic wicking fabrics. Layers will help trap warmth and wicking fabric will draw moisture away from your body keeping you dry. Clothing should fit snugly, especially at the wrists and ankles, to prevent wind and cold from penetrating. A waterproof windproof jacket will keep you dry during inclement weather. We have plenty of cold weather gear at Fleet Feet, so stop by and we can help you find that perfect layer.
Be sure to cover your head, hands and feet. Protecting your extremities will keep you warmer. Socks should cover your ankles and keep your feet dry. Consider adding a headband if your hat does not cover your ears.
Rule of thumb:

Always dress as if it's 15 degrees warmer out.

You should be slightly chilly before your run but you'll warm up within the first 5 to 10 minutes. Clothing layers can be removed or opened if you are warm. 
Start out slow. Cold muscles are more prone to injury so be sure to run your first mile a bit slower to let muscles warm and loosen up. Prevent falls by shortening your stride and slowing your pace when the ground is icy. 

Stay warm after your run.

Don't stand outside chatting or wait around for fellow Winter Warriors, get inside as soon as you can. After a run your clothes will be wet, change into dry clothes as quickly as possible. 
Don't forget hydration and nutrition. You may not feel as thirsty as you do in the warmer months but you are still losing fluids and need to replenish regularly. For long runs, keep your nutrition in a pocket close to your body to keep it from freezing. A little salt or an electrolyte tablet in your water bottle will help prevent it from freezing.
Do you have a tip to add to the list? Tweet to us @FFHoboken.