The inaugural City Challenge obstacle race took place in Hoboken on Saturday, October 5th. Over 1,300 athletes pushed their physical and mental limits to complete the event.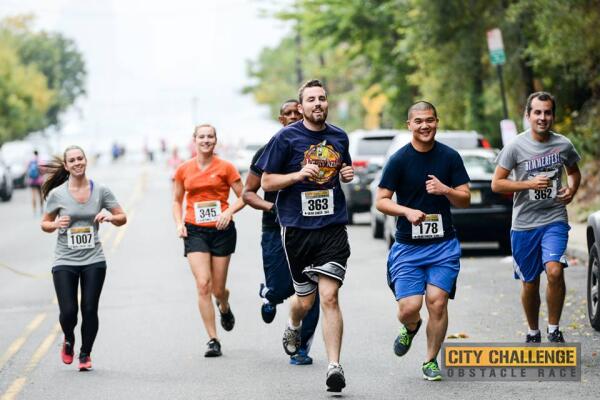 A customer of ours, Amanda Eitzen, was one of the finishers. Here's what she thought of the event:
"I ran with a group from work, and we were a relatively small team of 6.  We never said it out loud, but our goal was for all of us to finish, and we made sure that no teammate was left behind, regardless of ability or fitness level. We all finished within 2 minutes of each other.

Some of the obstacles were very difficult, and if we were unable to complete them (like the rope climb or the monkey bars), we would have to do 30 jump-squats instead.  The obstacles were also created with varying difficulty so that stronger and weaker individuals alike could still complete the challenge.

Other obstacles:
-hurdles
-ball slams
-jump rope
-kettle bell squats
-sandbag carry
-wall climbs
-bear walk
-tire pit
-water jug carry
-police car barricade
-net wall at the finish

All in all we encouraged each other to keep a good pace and complete the 3-mile race together.  After crossing the finish line we gave each other high-fives and celebrated with a round of cold beers.  It was a fun experience and certainly something to look to improve upon next year."
About Amanda: I picked up running during college as a hobby - something I liked to do alone with my headphones in my ears.  Now I enjoy fun-running with the Fleet Feet group and running in 5ks, mud and obstacle runs, and I completed my first half-marathon last April.