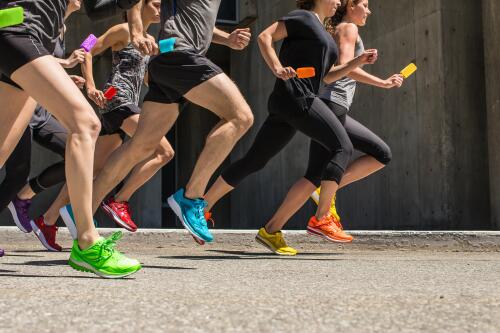 The Saucony RunPops Collection is fresh out of the freezer and ready to burn up the course. Unwrap one of these juicy colorways reminiscent of the frosty treats you used to chill with after some serious summer miles, and be prepared to out-kick your run club rivals.
We're keeping it cool this month as Saucony unveils the RunPops Collection with the Popsicle Mile! 
We'll take off from Fleet Feet Sports and run over to the Mt. Olive track where the real fun begins! Each quarter mile around the track, you'll be handed a popsicle to eat before you continue your loop! And of course, there will be popsicles waiting for you at the store too!
Be sure to get here early to get your demo shoes to take out on the run.
What's even better than popsicles on a hot summer's day? How about the chance to win FREE pair of Saucony running shoes!  Be sure to wear anything Saucony to increase your odds of winning!
How fast do your colors run?
FOLLOW THE LINK ABOVE TO REGISTER.
Thursday, July 21st at 6 pm
Fleet Feet Sports
It's a run with a great cause! Help us Stuff the Bus by bringing in school supplies for local students.
The items MOST needed include:
2",3" & 4" 3-ring binders, book bags, marble notebooks, notebook paper, pens & pencils, glue sticks, dividers with tabs & pockets, mechanical pencils, and hygiene products. Other needs are pencil pouches, scissors, spiral notebooks, colored pencils, markers, erasers, graph paper, folders, Kleenex, hand sanitizer and crayons.
Benefiting students in all three local school systems: Catawba County, Hickory Public and Newton-Conover City.