Save the date for the best night of the year! 
Entry will be $5 which includes 5 raffle tickets. Guests may purchase additional raffle tickets for $1 each. (With all of the amazing items we have to raffle off, you'll want more tickets!)
All proceeds from ticket sales will be donated to Safe Harbor Rescue Mission whose mission is, "To provide a Christ-centered community where women can work to rebuild their lives through immediate and long-term programs." Fleet Feet Sports has worked with Safe Harbor over the past two years through fundraising and donations in order to assist the women in our area who are in need. 
Amy Monroe will be here with BEAUTYCOUNTER, a line of skin care and beauty products free of harmful chemicals. Part of Amy's sales will also be donated to Safe Harbor!
What's a girls' night without a little vino? Baker Buffalo Creek Vineyard & Winery will also be here sampling a few of their best wines!
Your drinks will taste much sweeter in one of these exclusive Diva Night Luau wine glasses from Saucony! Available only to the first 70 women!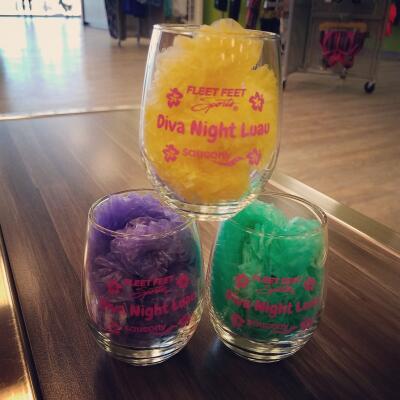 This is a night not to be missed!
Thursday, April 27th - 6:30 pm-8:30 pm
Please RSVP below to save your spot!
Donating partners include (with more to follow):