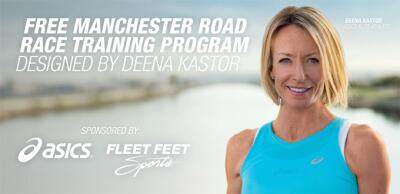 2015 Manchester Road Race Training with Deena Kastor
Train with Deena! We're excited to team up with Olympian Deena Kastor and Asics to offer a FREE 10-week training plan for the 79th annual Manchester Road Race.
ABOUT THE MANCHESTER ROAD RACE: The Manchester Road Race is an historic race that runs through downtown Manchester. The race is held on Thanksgiving Day and attracts 15,000 participants ranging from elite runners to those who run in turkey costumes.
HOW FAR IS IT?: 4.7 miles (4.748 to be exact.)
START DATE:  September 24th - 10-weeks out from race day. 
PROGRAM FORMAT: This is an online training program. Each week you will receive a newsletter with your weekly workouts. Fleet Feet will facilitate casual/non-coached meet-ups on Wednesday evenings at 6:30pm and Saturday mornings at the store (1003 Farmington Avenue, West Hartford, CT 06107), and Thursday evenings at 6:30pm for some speedwork at a local track.

The program features two different training group levels:
• Beginning Runners – 
Designed for those who will be training for their first 4.7 mile race. We'll help you conquer the Manchester Road Race!
• Advanced Runners- 
Designed for runners looking to improve their fitness level and train with a purpose. We'll help you run faster and more comfortably
COST: Registration is FREE!!
Note: you must register for the race on your own.
PROGRAM BENEFITS: 
• 10 week training plan 
• Weekly e-Newsletter
• Facilitation of casual/non-coached meet-ups 
• Access to free injury screenings and clinics 
• The opportunity to purchase Asics gear at special prices
• The opportunity to meet Deena!
Program Start: Thursday, September 24th
Program Fee: FREE