Due to efforts to limit the spread of COVID-19, this meet-up has been canceled until further notice.
********************
MARATHON MEET-UP - Sunday's at 7:30am
Running Boston, Providence or another Spring Marathon? Don't train alone!
Join us at 7:30am on Sunday mornings at the store for supported long-runs including planned route, water stops & running partners.
Drop-in for $5/run or purchase an 18-week season pass for $75 (valid through April 26).
Begins Sunday, January 12 @ 7:30am.
No official registration needed - just show up by 6:45am on the Sunday mornings you want to join in on the fun. You are also encouraged to join the Facebook group HERE.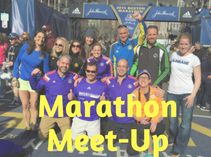 Program Start: January 12, 2020
Program Schedule: Sunday's at 7am through April 26
Program Fee: $5 per meet-up - 18-week Season Pace Pass for $75