2017 GLASTONBURY TRAINING MEET UPS:

Due to a lack of interest, the meet-ups are on hiatus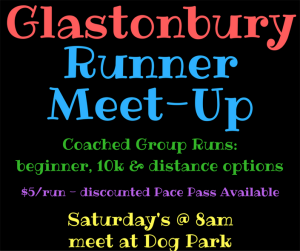 If you like running with others yet don't want to join a formal training program, try our meet-up group! These casual, pop-in group runs are great for beginners, as well as more seasoned runners. We'll provide water, course direction, pace leaders and guidance to new runners. 
Beginning January 14, we will meet at 8am on Saturday mornings at the Dog Park in Glastonbury and train together for favorite HMF races. Drop-in fee is $5, but 10-week Pace Passes are available for $40. After you attend 8 meet-ups, you will earn a shirt, discounts at Fleet Feet and on our goal HMF race:
O'Hartford 5k - March 19
Harvard Pilgrim Middletown Half & Legends Run - April 9
Burlington to Collinsville Classic - May 7
Amica Iron Horse Half Marathon, 10K & 5K - June 4
Red Dress Run For Women Presented by United Healthcare - July 8
Old Wethersfield 5K & 10K - August 27
Our 17-week training program for the Eversource Hartford Marathon on October 14th begins in July!
For more information, email Coach Natalie
Looking for a more formalized training program with certified coaches? We recommend:
   ZenduranceNow Coaching w/Meghan Collins Fanning
   Heather Neeley, USATF-certified: heatheraneeley@gmail.com
Program Start: Ongoing
Program Schedule: Saturdays at 8 am
Program Fee: $5 per meet-up - 10-week Pace Pass for $40