FLEET FEET RUNNING CLUB - WINTER 2018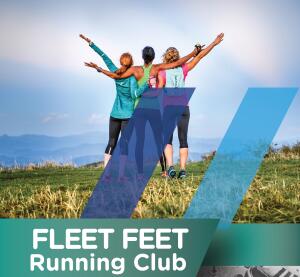 Meet-Ups (FREE):  Wednesday's @ 6:30pm and Saturday's at 8:30am. We'll offer one 3-5 mile route each Wednesday and three routes on Saturday's including distances appropriate for those training for a spring half or full marathon (you can always extend/shorted the route to meet your training needs):
Level 1: Run for Fun (3-5 miles)
Level 2: Half Marathon (Colchester, Savin Rock, Newport, etc)
Level 3: Marathon (Boston, VT, etc)
No Boundaries 5k FINISH Program ($95):  Our iconic beginner program for those new to running – especially those looking to get off the couch and start moving. Walk, walk/run and all-run options available. Super passionate coaches – most of whom are graduates of this program themselves – will be with you each step of the way. Main group run on Saturday's at 9am, but weekly meet-ups are offered on Monday's & Wednesday's at 6:30pm. Click here to learn more.
5K FAST Program ($45): For those runners looking to challenge their previous best and cross the finish line faster than ever before. This option is built around improving your personal pace, with interval training, dynamic stretching, visualization and strength-training incorporated into a progressive workout schedule to keep your body and mind on track.
The 5k Fast Program is designed by Scott Wojnarowicz who as coach of Capital Preparatory High School developed 4:12 milers as well as the city's first XC team to win a state championship. Program is more an independent training guide, but the group will be encouraged to meet-up on Saturday mornings at 8:30am for motivation, instruction and advice from Coach W. Registration & more details coming soon.
Bolton 5-Mile Program ($95): For those ready to expand beyond the 5k and challenge themselves to a new distance. This fully coached program will increase your endurance and make your stronger as you learn to love running hills in preparation for running THE HILL at the Bolton Road Race. Formal group run on Saturday's at 8:30am, but the group is encouraged to join the FFRC Fun Run on Wednesday's at 6:30pm as well. Click here to register.
Distance Project (TBD): For those looking to PR a half or full marathon, we are teaming up with some of the area's best high school and college coaches to offer a wholistic program that develops strength and endurance via a unique combination of cross-training (weights plus other modalities like rowing), mobility and running. Registration & more details coming soon.
UCAN Change Challenge: If your New Years Resolutions include losing a few pounds or even just eating cleaner (but you really don't want to diet), this might be the challenge for you! We ran a mini version of this challenge last spring and had some incredible results with the majority of active participants dropping a2-3% body fat in just 6-weeks. The challenge is simple, have a UCAN protein shake for breakfast and replace one afternoon snack with a UCAN bar - eat normally the rest of the time. UCAN nutritionists will help conduct the challenge and there will be discounts on UCAN for participants. Registration & more details coming soon.
To receive information on the Fast 5k, Distance Project and/or UCAN Challenge when it becomes available,

Click Here.

 

Program Start: January 6, 2018

Program Schedule: Weekly

Program Fee: Varies (Free to Fee)

Description: We believe that running changes everything, which is why we offer programs that make running accessible to all. All levels, every distance, any surface. No matter where you are on your running journey, we have a program and a group that will run with you.