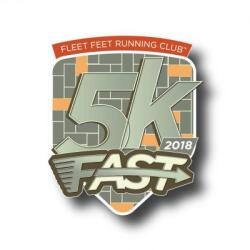 PROGRAM BEGINS: SATURDAY, APRIL 7
Get faster this spring!  After a super successful first season (all of the runners who completed the program, achieved a PR!), we are excited to have Coach Scott Wojnarowicz back for another Faster 5k program!  
This program is designed for those who have completed a 5k (either a race or on your own) within the past 6 months and want to achieve a personal best at the Celebrate West Hartford 5k in June, whether that means running a sub-20 or breaking 40 minutes for the first time. If you are ready to put in the effort, this program is right for you.
While we will offer two group runs each week and will try to partner participants up by similar paces so you don't have to run alone, the Fast 5k program is more of an independent training program with weekly coach check-ins and seminars as opposed to coaches running with you. If you prefer to have coaches running with you, consider our No Boundaries program which offers a 1:10 coach to participant ratio.
The philosophy of the program is "Anyone, AnyWhere". 
Anyone:  At Capital Preparatory Magnet School, Coach W created individual running plans, tracked progress of, and celebrated benchmark races for every runner regardless of their level of talent.  He will bring this mentality to Fleet Feet Fast.  Each runner will get weekly workouts using critical data points such as 5000m personal bests and a benchmark mile run.  Workouts will include aerobic and tempo runs, but the secret weapon to running "Fast" will be repeat x400m's.  Running shorter intervals, will allow runners of all talent to run dense 'quick' workouts, while minimizing the mental and physical breakdown that usually accompanies longer quick runs. 
The basics of stretching and strengthening, training both aerobic and anaerobic systems and becoming a holistic runner will be employed to ensure success for all. 
 AnyWhere:  In the winter months, tracks are covered with ice and snow making interval workouts tough to finish.  Coach W empowers his runners to get out and investigate their neighborhoods to find alternative loops and straightaways that allow for safe and scenic workouts.  Flexibility of location is a great way to untether from the draconian theory of workouts need to be held on tracks.  'Anywhere Workouts' add fun to your workout while allowing athletes to fit them into busy work and family schedules. All you need are running shoes (preferably two pairs to alternate), a watch with split capabilities, foam roller, stretch strap and a means to measure distance (a measuring wheel will be available for loan at Fleet Feet Sports).
Program Details:
Training programs will be provided to all registered members.  Programs will be broken down by week and given in three monthly mesocycles:  Base/Rhythm, Train, and Race.  Trainees will be invited to participate in Fleet Feet's Wednesday and Saturday Run Club meet-up runs (courses for your designated distance will be offered). Coach W will be offering bi-monthly seminars on Saturday mornings to teach you more secrets about running - and racing - fast and will be available via email for questions about your programming and performance throughout the program.  
All workouts/runs will be started with a set of dynamic stretches to promote stability and end with static stretches to 'warm down' muscles.  Foam rolling and strap stretching will also be stressed after runs to improve flexibility and minimize post-run pain and/or injuries associated with participating in a running program. Plus, you'll earn the cool "5k Fast" patch to display proudly upon completion of the program. 
Program Start: Saturday, April 7
Program Schedule: Weekly Runs
Program Fee: $125
Description: Get fast this spring!While our No Boundaries & WalkFit 5k programs have helped hundreds of people finish a 5k, our FASTER 5k program is all about speed. We have partnered with one of the regions best 5k coaches, Scott Wojnarowicz, to offer this brand new program that will take your 5k training to a whole new level.