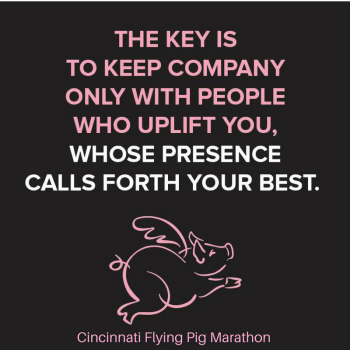 Having been a runner for over four decades, I know my fastest days are behind me. Which means I have to get creative if I want a PR - like run a new distance or record "age group PR's". So, when an old running friend challenged me to run a half marathon, I set my goal to beat my 40-49 age group time of 2:02:48 set back in 2015.
Because my training pace has slowed considerably since 2015, I knew I needed help if I was going to conquer the hilly Cincinnati Flying Pig. I decided to sign-up for a unique half marathon training program that Fleet Feet was offering in partnership with CrossFit Hartford that blended running with cross-training on the premise that getting stronger and improving our overall fitness would make us better runners.
The training program was designed by Coach Kevin Doyle who was the strength and conditioning coach at Trinity College before co-founding CrossFit Hartford with Mark Balkun. While he is known as one of the best weightlifting coaches in CT, his wealth of knowledge about all types of training and human physiology enables him to produce results in any type of athlete. In fact, one of the best squash players in the world sought him out to coach his off-court training, and his fitness has soared even more.
There were seven of us in the program. Even though I had been doing CrossFit for 18 months, the training was out of my comfort zone. I was glad to have the camaraderie of a wonderful group of people. I looked forward to our workouts together, especially our Saturday long run. Sweating is more fun with friends!
The training plan called for two days of endurance training on a rower or assault bike (sometimes Coach Doyle sprinkled in burpees, kettle bell swings or wall sits to spice things up) that improved our aerobic capacity without taxing our bodies like running can do, one day of strength and agility training and two days of running. You read that right; just two days of running. 
Our highest mileage week was 17 miles – a 5 & a 12 miler. Even I was a bit skeptical whether we would be prepared to race 13.1 miles. But midway through the program we tested our training and discovered we had more speed and endurance than usual. In fact, all of our training paces kept getting faster and faster. It was fascinating!
As usual, I was super nervous on race morning. I felt good at the start, but things got real around four miles. My heartrate jumped and I started breathing more erratically. That's when Coach Doyle's voice popped into my head and reminded me to breathe deliberately and slowly in order to get back into control.
A big part of his training was teaching us to be comfortable with being uncomfortable. I knew that if I could push past the discomfort, I would find my rhythm again just like it happened during so many of our workouts. That worked until I hit the hills. My secret there was channeling my training mate, Lisa, who dances up hills like a mountain goat. I imagined following her up that hill just like we did on our Saturday runs.
Before I knew it, I was at 10 miles. I could certainly hang in there for 3 more miles. In fact, I felt strong and decided to pick-up the pace; finishing the last 5k of the half marathon faster than I've run a 5k in the past 5 years!  I even had energy to smile at the camera as I sprinted to the finish and pumped my fist when I saw the clock: 1:57:12.
Four and half minutes better than 2015!  I was even prouder to find out that I ranked in the 97th percentile for my age group and placed 5th overall in a special "pump-and-run" division which involved bench pressing half our body weight before the race (that's one way to get a PR!).  
I 100% attribute my success to Coach Doyle and being part of a training program. Even though I know a lot about running, I learned that having a coach – and others to train with - is invaluable. Good coaches know when to push you – and when to pull you back. They teach you ways to push past the discomfort and find your rhythm. They thoughtfully design a training program that will enable you to peak at the right time. They take the guesswork out of training. Even more, they believe in us and pushing us to do what we thought was impossible. 
CrossFit Half Training Success Story More Info »
Program Start: Sunday, March 17
Program Schedule: 5-6 days/week of training
Program Fee: $200 for coaching + $200 for CFH Membership
Description: Training for and completing a Half Marathon is a challenging and rewarding endeavor ? especially when you want to improve upon past performance?and not just by a few seconds. Achieving a serious personal best takes commitment, hard-work and dedication. It also means addressing your weaknesses, varying your training and trusting the training plan even if it may seem a bit nontraditional compared to other training programs. If you are ready for a challenge & want to get stronger/faster, this program may be just what you were looking for.