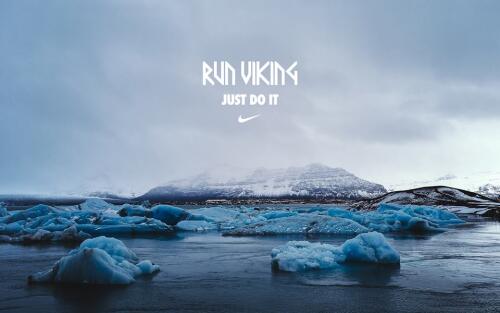 I'm a competitive person which makes being an aging runner a difficult thing.  Some experts say that runners peak in their 30's.  Others say that regardless of your age, we have about 10 years of running improvement if we put in the effort.  Either way, I'm in trouble if I stick to my old standards about what a successful run entails.
I think that's why running with friends and on trails appeals to me more and more.  It tricks my competitive psyche, yet still enables me to enjoy the physical and mental benefits of running (i.e. I can justify eating a cupcake for breakfast).  Plus, there is something special about running free.  Running free from data.  Running free from what the training schedule says.  To not worry about how far or how fast I go.  To just go.      
Earlier this year, Nike invited their Run+ Community to describe their dream run for a chance to make that dream come true. Thousands of runners submitted their runs.  Ten dream runs were selected.  Then for one month this summer, runners worldwide ran and donated their kilometers to crown their favorite.  The winner was Iceland.  The dream run was nicknamed "RunViking". 
Unbelievably, I was selected to join the team that would make RunViking a reality. The timing was perfect as I was beginning to lose my joy for running after a particularly tough summer of running (or slogging as I had come to call it).  It had to be divine intervention since it turned out to be the gift I needed to rejuvenate my running. 
Sometimes in order to build something back up, you need to first strip it down to its essence.  That's what running in Iceland did for me.  It broke running down to its raw core which enabled me to experience it sense by sense: first by sight, then touch, smell, sound and taste.  It was an experience like no other.  The trail and weather conditions were amongst the hardest I've ever run through, yet I completed each run feeling like a kid in a candy store – huge smile on my face, heart filled with joy and itching to go for another run.  An adventure of a lifetime!
My RunViking adventure began in the lobby of the Radisson Blu hotel in Reykjavik.  As the morning wore on, jet lagged runners from around the globe trickled in.  In total, there were about 30 of us.  You could tell us by our colorful sneakers, slick running tights and Nike GPS Sportwatches - definitely not a sight the hotel was accustomed to.  In true runner fashion, conversation quickly progressed from small talk about where we were from and the weather (a balmy 15 degrees), to our latest race, PR's and favorite shoe.  I felt like I was at the start line of the Boston Marathon where you make fast friends with perfect strangers as you wait for the adventure ahead.
Soon we boarded a bus on our way to our first run.  Nike kept the location of the runs secret but told us to prepare for Epic.  That was an understatement.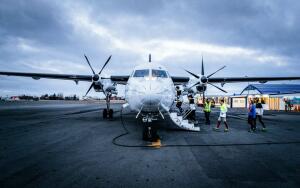 We were on the bus for less than 10 minutes before it stopped…at a small airport outside of Reykjavik.  A small jet was waiting on the airstrip to fly us to Hofn on the eastern coast of Iceland.  I can't say that I've ever traveled by plane to get to my morning run…
The plane took us over the Hvannadalshnjukur, the tallest mountain in Iceland, and by the mighty Vatnajokull, the largest icecap in all of northern Europe - it covers 8% of the island and is up to 600 meters thick in places.  Everything was covered in a fresh layer of brilliant, white snow.  So beautiful!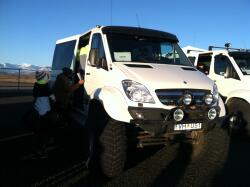 Once we landed, we hopped into Super Jeeps and trekked our way down to the coast to the mouth of a glcier.  The drivers dropped us off on a gravely ridge with instructions that our start line was just over the ridge.  I've seen some beautiful scenes in my lifetime, but the sight from the top of the ridge was absolutely breathtaking: a lagoon at the bottom of the glacier that was filled with icebergs of all shapes, sizes and colors.  Some the most incredible shade of translucent blue.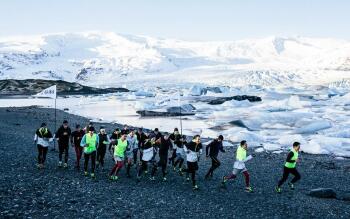 In front of the lagoon was our start line composed of two flags, one with "RunViking", the other with Nike's slogan "Just Do It", billowing in the strong wind.  With a wave of the hand and a hearty roar of "RunViking", we were off.  Once my eyes adjusted to the stunning scenery, my other senses kicked in.  I felt the cold air off the glacier kiss my face, and tasted crisp, fresh air.  Underneath my feet were rocks smoothed by the passage of time and covered in a moss that provided an unexpected spring with each step.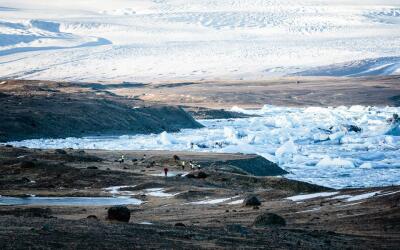 The finish of our run was about 15k from our start.  There was no set trail.  We were free to pick our path.  Never before had I run off-trail.  Never before had I felt so liberated while running.  Sometimes, I took the high road, climbing a rocky ridge for a better view.  Other times I ran close to the lagoon's shore where you could hear the icebergs crackle and groan before they calved and created new icebergs.  At all times the scenery was spectacular.  So spectacular, that I couldn't help but take my eyes off the ground to sneak a peek…which resulted in a spectacular fall and some epic bruises.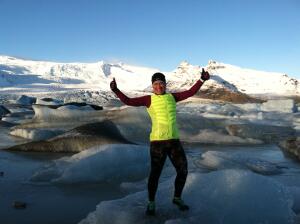 The finish line was bittersweet.  I was elated to have completed the toughest, most beautiful run of my life, but sad that I may not ever experience a run so epic ever again.  Turns out, I only had to wait about 3 hours. 
After finishing our run, we piled back into our Super Jeeps for a 2.5 hour journey along the coast to the town of Vic, the southernmost town in Iceland.  It is home to one of the 10 most beautiful beaches in the world (according to Island Magazine).  Instead of white sand, this beach is made from black basalt sand and pebbles.  The white sea foam against the black sand made me feel like I was in a black-and-white movie.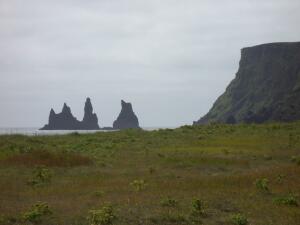 Rising sharply out of the sea is a family of basalt sea stacks that legend says were formed when two trolls dragged a three-masted ship  to land unsuccessfully and when the sun rose, the masts became needles of rock.  Next to the basalt needles is the mountain Reynisfjall which rises 340m straight up (~1,100ft).  Our 10k run encompassed running up that mountain, along its top and back down again to the sea.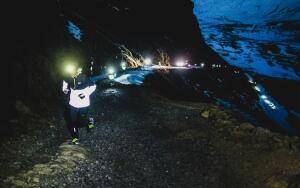 That run would have been challenging enough in the daylight.  But RunViking was all about epic so we donned headlamps and Nike's freakin' awesome Flash Jackets and Tights and headed up the 1100ft climb just as the sun set.  We climbed the mountain in single-file.  Headlamps illuminating each other; transforming us into fireflies gliding up the mountain.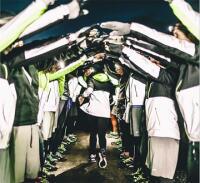 As runners crested, they joined the others in a Victory Tunnel to welcome each subsequent runner, creating a circle of glowing light and energy.  I still get chills thinking about it.
We continued our journey along the mountain's edge, finding our own rhythms.  Alone in the darkness, in the quiet of the night, I could hear the waves softly crash below.  A feeling of calm came over me.  I felt one with nature.  It was my favorite moment of the adventure.
Soon, we reached the other side of the mountain and headed down.  Straight down!  As if careening down a mountain in the dark wasn't exciting enough, Mother Nature added the challenge of icy-snow covered trail.  Skis would have been a good choice, but I quickly learned to trust the lugs of my Nike trail shoes and stayed upright the entire trip down.  At the bottom, we turned left and followed a road - and our noses - towards the salty-air finish line on the black sand beach as the moon rose above us.  Exhilarating! 
As we drove back to our hotel, we spied a green glow in the sky.  The Northern Lights!  It's always been a dream of mine to see the Northern Lights so I was psyched.  We all piled out of the Jeeps and huddled together for warmth as the green glow quickly dissipated from human eye – though, the cameramen following our journey were able to take some cool photos with their special filters.  So close! 
With a belly full of Icelandic tapas, I slept like a baby that night only to be awakened by a howling wind in the morning.  Thanks to Iceland being so close to the Arctic Circle, winter means precious few hours of daylight.  Even though it was 9am, it was still pitch black as we drove to our third and final run. 
What was supposed to be an easy 10k at "sunrise" on a running trail popular with the locals that would take us past beautiful red rock formations and a large lake, turned into another awesome adventure thanks to Mother Nature.  At first the wind was manageable (especially when it was at our backs) and the snow flurries magical.  But the winter storm moved in quickly.  Soon the wind was gusting to 30-40mph and the snow blowing sideways.  Hoods up and heads down, we continued running.  Our Nike Flash jackets and Shield tights performed phenomenally, protecting us from wind and snow to keep us toasty warm.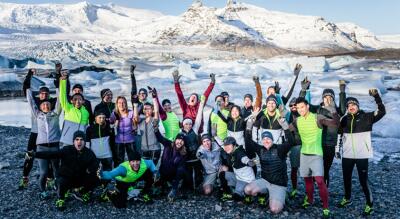 This last run seemed to sum up our 24-hour running adventure perfectly.  No matter what challenge Mother Nature put forth - glaciers, mountains, darkness, sand, snow, ice, wind - we conquered it.  We ran free.  We ran like Vikings.  Our group of 30 strangers had become friends, united by the power and universal language of the run.  Epic!
Many thanks to Nike for inviting me on such an amazing adventure.  It was a Top 5 life experience for sure!  May I carry on the legacy of RunViking and inspire a new crew of Vikings that no matter the weather or circumstances, they Just Do It! 
Photos courtesy of Nike Running.  Want to see more?  Search #RunViking on Instagram