We will be opening for in-store service beginning at 10am on May 20.
To reserve your in-store Fit Assessment now, click HERE and choose the "In-Store Fitting" option.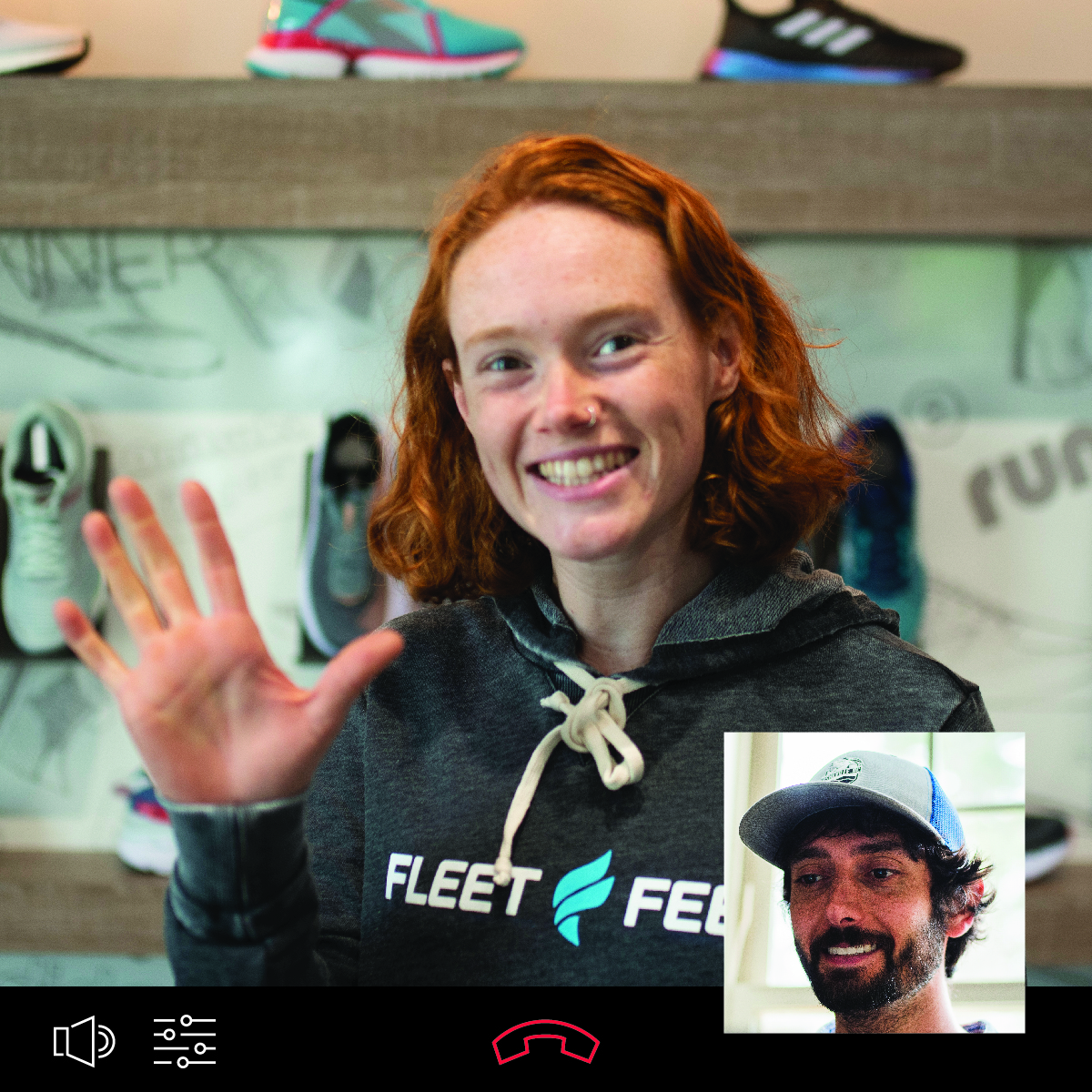 Despite the restrictions in place to flatten the COVID-19 curve, we strongly believe running remains essential to a healthy lifestyle and can still be done safely following the CDC's recommended social distancing measures.
Running is at our core. And so we are continuing to serve our running communities in accordance with local and federal guidelines.
To best serve you, we are now offering two options for touch-free shoe and insole fittings: Zoom Fit or Contactless Curbside Fit.
Reserve your time slot HERE (or read below to learn more).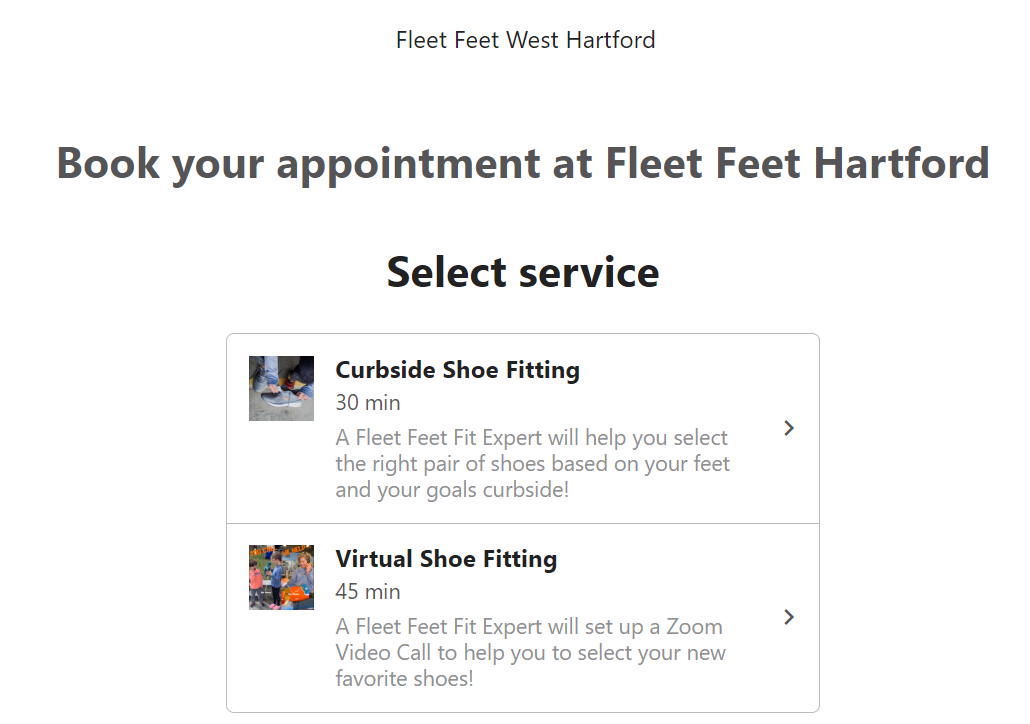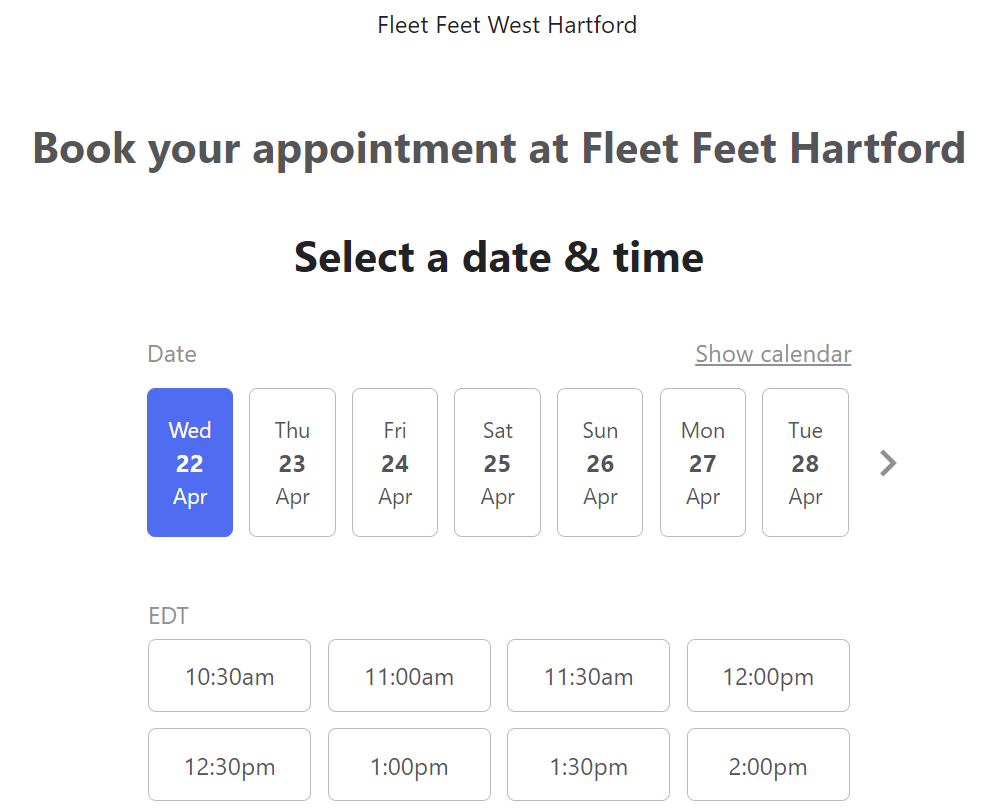 ZOOM FIT - VIRTUAL APPOINTMENTS
Schedule a one-on-one shoe fitting that occurs from the comfort of your home (or office)! Here's how it works:
Schedule an Appointment: Click HERE to schedule your virtual shoe fitting by choosing the "Zoom Fit" option. You will receive a text with a link to join a Zoom video call when it is time for your appointment. You do NOT need a Zoom account or the Zoom app to participate - you will be given guest access on our account.
Join the Zoom Video Call: Zoom is going to request access to your computer/phone's microphone and camera, so please allow that otherwise we won't be able to see or hear you - that would be no fun! Please have your current running, walking or fitness sneakers and orthotics handy as it will help us view your wear pattern (if you don't have your sneakers, that's OK too).
Talk Live With a Fleet Feet Fit Expert: Through chatting with one of our shoe experts about your activities and current shoes, they'll be able to help you identify your new favorite pair of shoes. If you've shopped with us before and used our fit id® 3D foot scanning technology, they'll be able to pull up your most recent scan and review your shoe purchase history to personalize their recommendation even further.
Gait Analysis: We ask that you have enough space to walk 10 feet away from the camera and back so we can see how your body moves through its natural gait cycle. We may also ask for a close-up shot of your feet and arches to better determine your foot shape.
Shoe Recommendations: Based on our conversation, current sneaker wear pattern, foot shape and gait analysis, the Fit Expert will introduce you to a few options they know you'll love, and they'll help you pick your next pair. If you're not a fan of the color we've selected, please tell us. We usually have more than one color option available, especially in normal width shoes.
Select Your Delivery Method: Once you've found your shoes, choose how you'd like to receive them (mail delivery or curbside pick-up).
CONTACTLESS CURBSIDE FIT - IN PERSON APPOINTMENTS
This option works similar to the Zoom Fit option above except you are physically curbside at Fleet Feet. We will do the foot and gait analysis, from 6' away (while wearing gloves and a mask) so we can remain safely socially distanced - and then bring the shoes outside for you to try on. Once you find your perfect shoe, you can pay and take your shoes home that day!
Make your Contactless Curbside Fit appointment HERE.
KNOW WHAT YOU WANT?
Give us a call during business hours (860-233-8077) or complete THIS FORM to order your shoes and/or other products for contactless curbside pick-up at your convenience or delivery (shoes and purchases over $100 ship free - otherwise a shipping charge of $5-10 will be charged depending on what you ordered):
You can also shop 24/7 on fleetfeet.com which offers products from over 150 Fleet Feet locations across the country.
Questions?
We're here to help. Please call us at 860-233-8077 or complete our online form HERE.