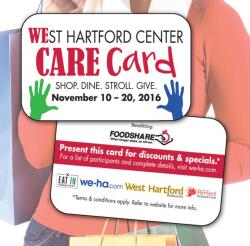 Help support Foodshare and get a jump start on your holiday shopping with this special promotion.
Your favorite retailers and restaurants throughout West Hartford Center & Blue Back Square are offering 20% off your entire purchase for anyone who purchases a WE CARE Card.
Cards can be purchased online or at participating retailers (including Fleet Feet Sports) for $50. Proceeds will be donated to Foodshare. 
Once you purchase a card, you can use it as many times as you want through Sunday, November 20.