Mark your calendars, Sweat for Vets is back for Year 2! Register HERE.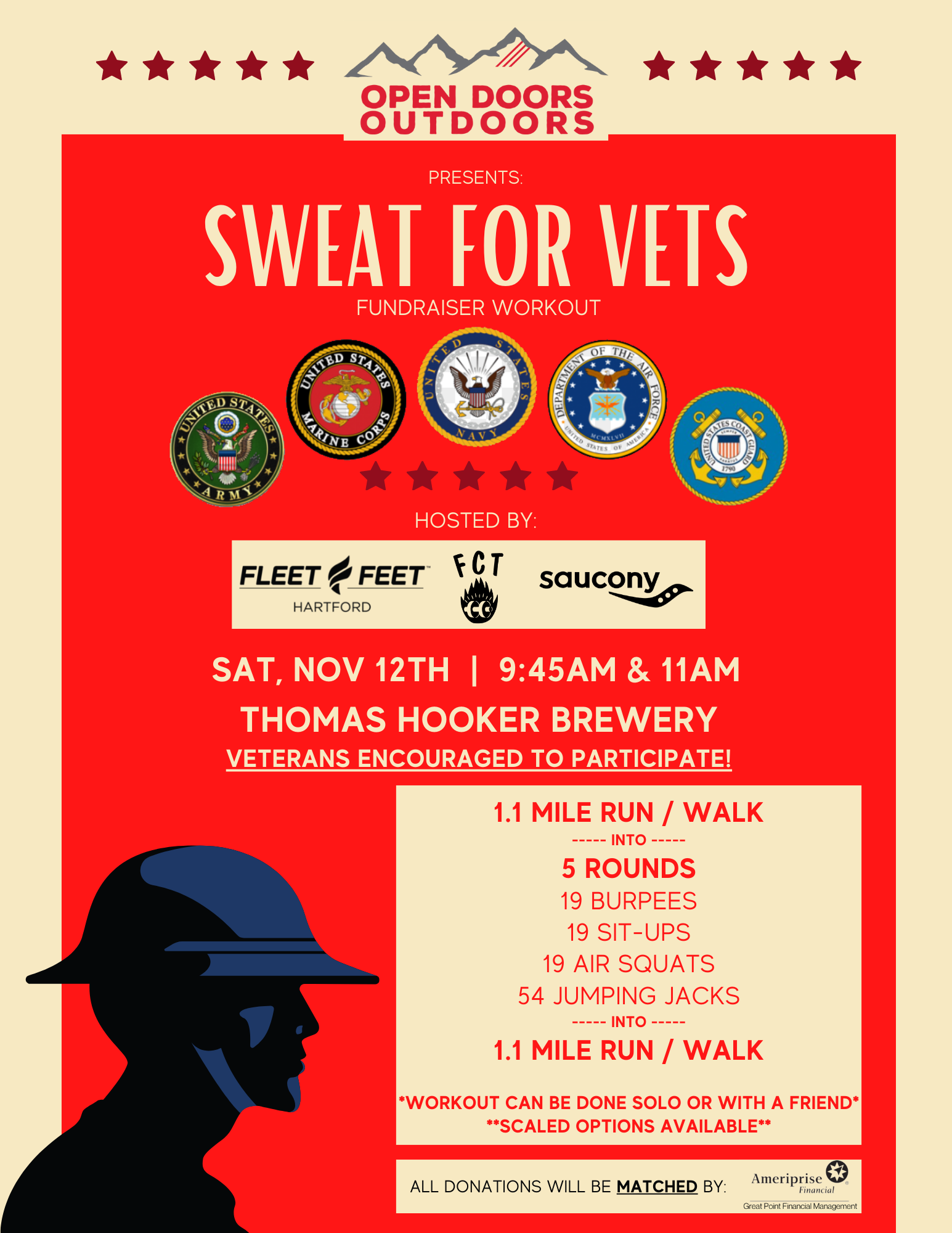 Join us at the Thomas Hooker Brewery in Bloomfield for a workout to honor veterans and raise money for Open Doors Outdoors – a Glastonbury-based non-profit that takes veterans, their families and young people into the outdoors for re-connection, healthy activity and healing.
Our "Sweat for Vets" workout can be done individually or as part of a 2-person team. You can even scale the workout by doing half of the reps if you would like. There is no time limit or prizes for finishing first. The goal is to have fun and repay some of the sweat our veterans have shed as they have protected freedom around the world. To honor the veterans in your life, we will have blank race bibs available for you to write their names on and wear during the workout.
1.1 Mile Run/Walk, followed by 5 Rounds of
19 Burpees
19 Sit-Ups
19 Air Squats
54 Jumping Jacks
Then finish with another 1.1 Mile Run/Walk
The numbers in the workout have special significance:
Two 1.1 Mile Run/Walks = 11/11 – November 11 is Veterans Day

Five Rounds = one round for each branch of the Armed Services (Army, Navy, Air Force, Marines & Coast Guard)

19 Burpees + 19 Sit-Ups = 1919 - the year Armistice Day was first celebrated

19 Air Squats + 54 Jumping Jacks = 1954 - the year Veterans Day was established
The running portion of the workout will take place on a street that is open to automobile traffic, while the functional movements can be done on the artificial turf (bring a towel of yoga mat if you'd like).
Post workout, enjoy tasty eats and cold drinks at the brewery (first round of food/drink is on us!). All registered participants will receive a ticket for our "teacup" (errr, beer cup) raffle that features great prizes like Saucony shoes (4 lucky people will win!), Shokz wireless headphones, swanky Oliver Thomas backpack, flights of beer and more. Want to better your odds of winning? You can purchase extra raffle tickets with all proceeds from the raffle being donated to Open Doors Outdoors. All registrants will receive a $10 Voucher good on Saucony shoes or apparel at Fleet Feet Hartford.
This event is hosted by Fleet Feet Hartford and Fitness Class Training and is made possible through the generous support of Saucony, Transamerica and Brooke Group Real Estate. Because of them, all the monies raised will be donated to Open Doors Outdoors.
Online registration closes on Friday, November 11 @ 11:59pm. You may register on-site on race day, but the fee will increase to $35.