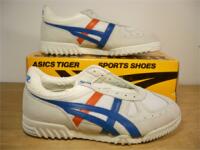 During the initial running boom in the 1970's, many a runner's prized possession was housed in a bright yellow shoebox covered with black tiger stripes – a pair of Asics Tiger sneakers! Since then, Asics sneakers have been beloved by runners of all abilities who swear allegiance to their GEL cushioning system, glove-like fit and good looks thanks to their classic tiger stripes.
In the past, even Asics cushiest sneakers like the Nimbus and Kayano have only featured separate pods of GEL in the rear and forefoot, but beginning Wednesday, that all changes. For the first time in ASICS history, runners and walkers can experience a full 360 degrees of Asics legendary GEL Cushioning technology in one of the coolest, most advanced shoes on the market: the all new GEL-Quantum 360!
A main inspiration for the engineers who designed this shoe was a jelly fish whose gelatinous "body" allows it to move smoothly, yet powerfully through the water – the same properties a runners wants in their shoes. The deep gel will provide many miles of cushioning, while the full-length Trusstic System delivers support and a spring-loaded ride to power your workout and the advanced barely-there FluidFit upper provides strategic support so the only thing you will feel is "Ahhhhh!"
We are one of only 300 stores nationwide to get a limited debut shipment of this shoe. Stop by to give them a try.