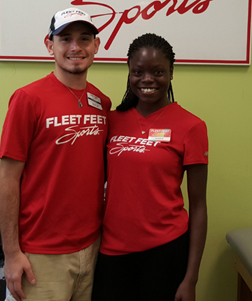 One of the best parts of being a small business owner is the opportunity to make a real difference in our community. Oftentimes it's being able to offer free events for our community like self-defense classes, fun runs, coached track workouts, The Little Manchester Road Race and establishing a Shoe Library which provides sneakers for students and athletes experiencing financial hardships. Other times, it's helping make other events successful, though with 200 races and organizations asking us for financial assistance each year, it is tough to decide which events to support.
In 2012, we made the decision that instead of giving a little money to a lot of organizations, we would focus our dollars to make a bigger impact. We created a scholarship called "Run to a Better Future" that provides $10,000 a year for four years to a student-runner from Capital Preparatory Magnet School in downtown Hartford.
Our first recipient was Shameal Samuels. In her application essay, Shameal wrote, "Growing up in an urban area where there are always crimes and someone going to jail, influenced me to stay out of trouble and work towards a goal so I can to make my dreams come true.  I try my best in school and admit that there are times when I wanted to give up, but I did not. I have wanted to become a forensic scientist since I was a small child. I tell myself every day that I will do everything in my power to become a forensic scientist."
Shameal is about to begin her senior year at Quinnipiac University, majoring in Criminal Science and running track. In fact, Shameal has broken several school records and was named as an Academic All-American this year as well as Quinnipiac Athlete of the Year!  She is on-pace to become the first in her family to attend – and graduate – from college.  A true feat considering that her mom never completed high school.
Even cooler is that Shameal's success both on the track and in the classroom has resulted in her not needing our scholarship this year which means another deserving individual will have the opportunity to go to college debt-free. That individual is Kevin Rivera. 
I first met Kevin seven years ago at a summer running program for inner-city youth. I gave him a pair of sneakers, that combined with an amazing coach who cared for his athletes like his own kids, gave Kevin a platform to escape the cycle of poverty around him. Like Shameal, Kevin is the first in his family to attend a four-year university (Central CT State University where he also runs on the XC team).
To pay it forward, Kevin has volunteered to manage the FF Shoe Library so more kids like him will receive the gift of shoes that provide them with purpose, dignity and the courage to stay in school and out of gangs. If you want to be inspired, read Kevin's acceptance speech when Asics awarded us a grant to fund our Shoe Library. Simply amazing. 
This scholarship couldn't have been made possible if you didn't choose to shop at Fleet Feet Sports - especially when the big box stores and online giants may save you a few dollars and a gallon of gas. We like to think that we make up for it with a better, more personalized (and fun!) shopping experience and by investing our various resources back into our community. Together we are making a difference, one soul at a time!