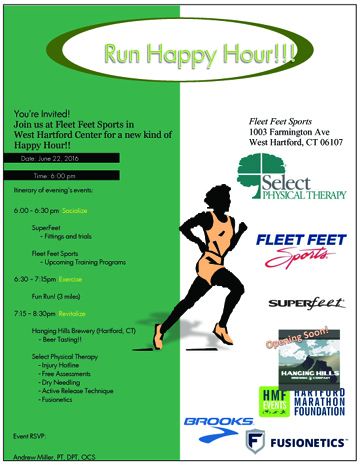 Join us at the store a for a new kind of Happy Hour that features Socializing, Exercising & Revitalizing!  This new monthly event is hosted by Select Physical Therapy, Brooks Running, Hartford Marathon Foundation and Fleet Feet Sports and will feature special guest breweries and product vendors.  This week our special guests are Superfeet & Hanging Hills Brewery!

The fun begins at 6pm with a short introduction from our friends at Superfeet as to why insoles are beneficial for runners and an opportunity to demo a pair during the run.

At 6:15pm, Coach Natalie will lead us in a 3 mile run/walk through the neighborhoods surrounding West Hartford Center.  

After the run, staffer Josh will lead everyone through a stretching session designed to lengthen, strengthen and get rid lactic acid.

Then, it's time to sample brews from Hanging Hills Brewery (Hartford's newest microbrew) while the physical therapists from Select PT offer free injury assessments, dry needling, Active Release Therapy and mini Fusionetics screenings.

The event is FREE and open to all!