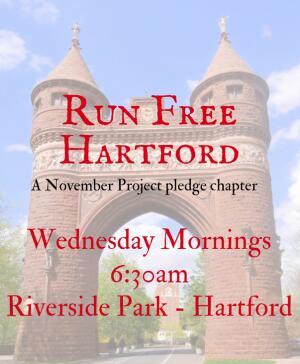 Join us for a free early morning workout along the Connecticut River!
Run Free Hartford is a pledge chapter of the November Project - the famous community-based fitness program founded in Boston - and is lead by Coaches Natalie Carpenter & Melody Smith in partnership with Riverfront Recapture.
The group meets every Wednesday at 6:30am for some easy miles and slightly more difficult body conditioning utilizing the props that Riverside Park give us (grassy hills, stairs, fast straightaways and more!). The workout changes each week, so be prepared to work hard and have fun!!! Join fellow fitness enthusiasts of all ages, shapes and backgrounds to make Hartford our Run Free paradise!
Location: The Boathouse at Riverside Park, 20 Leibert Rd., Hartford, CT
Time: 6:30am SHARP
Duration: About 45 minutes
Type of Workout: TBD each week